We aimed at delivering scalable .NET solutions, fully tailored to your business' requirements.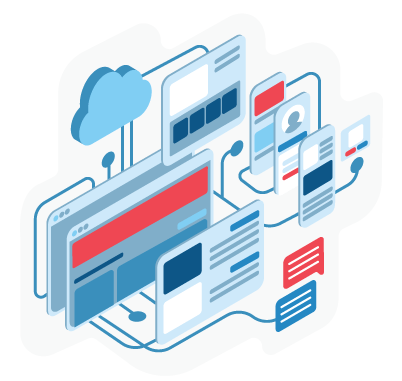 Here at Redwerk we master an array of .NET programming tools and technologies: ASP.NET, .NET MVC, C#.NET, VB.NET, and all kind of .NET content management systems like Sitecore, Umbarco, Kentico and DNN. Using Agile Software Development methodology in our projects enables you to continuously evaluate in practice the progress in implementing your requirements. We see partners in our customers, and work on projects together. Such transparency gives rise to trust and gives maximum effect.
.NET application development services have always been in high demand among our clients due to framework exceptional reliability and convenience. You can hire our .NET programmers to create almost any kind of applications.
By partnering on .NET development with us, whether you look for software development for Windows or mobile development with .NET, you will get an absolute quality of the final product to facilitate your business.
Perfect Collaboration
Our engagement models are very flexible and we will help you determine a development process that is perfect for your business. We offer both managed dedicated .NET development teams and per project models.
Our Custom .NET Development Services
We have deep expertise in this technology, and an impressive track record of C#.NET development projects including our projects with Worldnow.
One of the most demanded .NET application development technologies for large web projects.
Our .NET Development Services by Product
.NET Mobile Application Development
Mobile applications today are fully integrated into our lives and having a mobile application or at least a mobile version of the corporate website is a must for almost any kind of business. It is possible to create amazing Windows Phone apps with .NET Framework and our developers are always happy to help is you need that kind of service.
.NET Web Application Development
Here at Redwerk we are going to develop for you an up to date web application or a website of any complexity whether it is just a simple corporate website created with ASP.NET, a web-based CRM or a huge Sitecore-based online shop. These technologies are our main expertise and you can rest assured that your product will shine.
Desktop and Server .NET Software Development
We have all the needed skills and experience to create robust and powerful desktop application using C# language and .NET Framework. These technologies are perfect for the development of desktop applications for Windows platform as well as custom Windows Server applications to facilitate your business needs and requirements.
Enterprise .NET Software Development
We are experts in creating distributed, sophisticated enterprise applications including enterprise resource planning (ERP) systems or customer relationship management (CRM) systems using C# and C++ programming languages and .NET Framework. Our track record includes very interesting project case studies in this field.
Why Us
Skilled .NET Developers
Looking for professionals in .NET programming for your current or upcoming project? Need to extend your development team with some additional .NET resources? Redwerk is the right place for you.
Management and Communication
Whether it is a long term collaboration or a small project, our management and communication standards remain at the top level of quality. Any project is handled smoothly, with full attention and custom approach.
Legal Protection
We guarantee the top level of legal protection of our clients and for every project before we start initial analysis we always sign a non-disclosure agreement. Rest assured that you will get a complete confidentiality and 100% intellectual property rights.
Price Advantage
Outsourcing .NET programming to Eastern Europe will save you a fortune. Our software development rates are at least 25% less expensive than some other IT outsourcing locations.
Intellectual Property Rights
All rights on the software developed by our developers belong to the client 100%.
Working Hours & Time Zones
Depending on where you are, we can adjust our working hours to make sure there is an overlap with your specific timezone.
Selected .NET Development Cases
.NET software development projects our company have done.
Looking for .NET development company?
1/3
of our staff are
.NET programmers
7
dedicated .NET
teams built
25%
less expensive than
some other IT outsourcing locations