We understand that starting a software customization and development project often lead to facing a lot of unknowns or unspecified cost projections. We at Redwerk always provide transparent and structured information on project quotes for custom software development.
How to Start Your IT Project
We would recommend starting with putting down a list of requirements for your IT development project. This can be a list of use-cases or user stories. It can also be a textual description of the solution that needs to be developed. In the perfect world, you would provide us with a full technical task description document covering every detail of the future product. But since the world is not perfect, our PM/BA team will do a discovery effort with you to bridge all the gaps in the initial materials.
If you want to make a solid start to your software development project, send your specification over to us. Our team of developers, project managers, and business analysts will thoroughly analyze it and conduct additional research: ask you questions and propose behaviors.
I didn't need to understand everything, but I had confidence that everything was done through the standards that we required and that customers demanded.
Once clarity has been achieved in the initial requirements, we will provide you with a time estimation for the project, usually in the form of Excel sheet, where your software project is broken down into subtasks. Each subtask has two figures assigned: realistic and pessimistic. These numbers display a possible price range of the project.
As we use only Time & Material model, the price varies depending on the hours spent on the development and is subject to discussion with the client, allowing the full control of this process. There are no strings attached and no hidden charges, just the time estimation, as accurate as possible.
Here is an example of how our typical hourly estimate looks like:
Get PDF
×
Where do you want us to send our project estimation sample?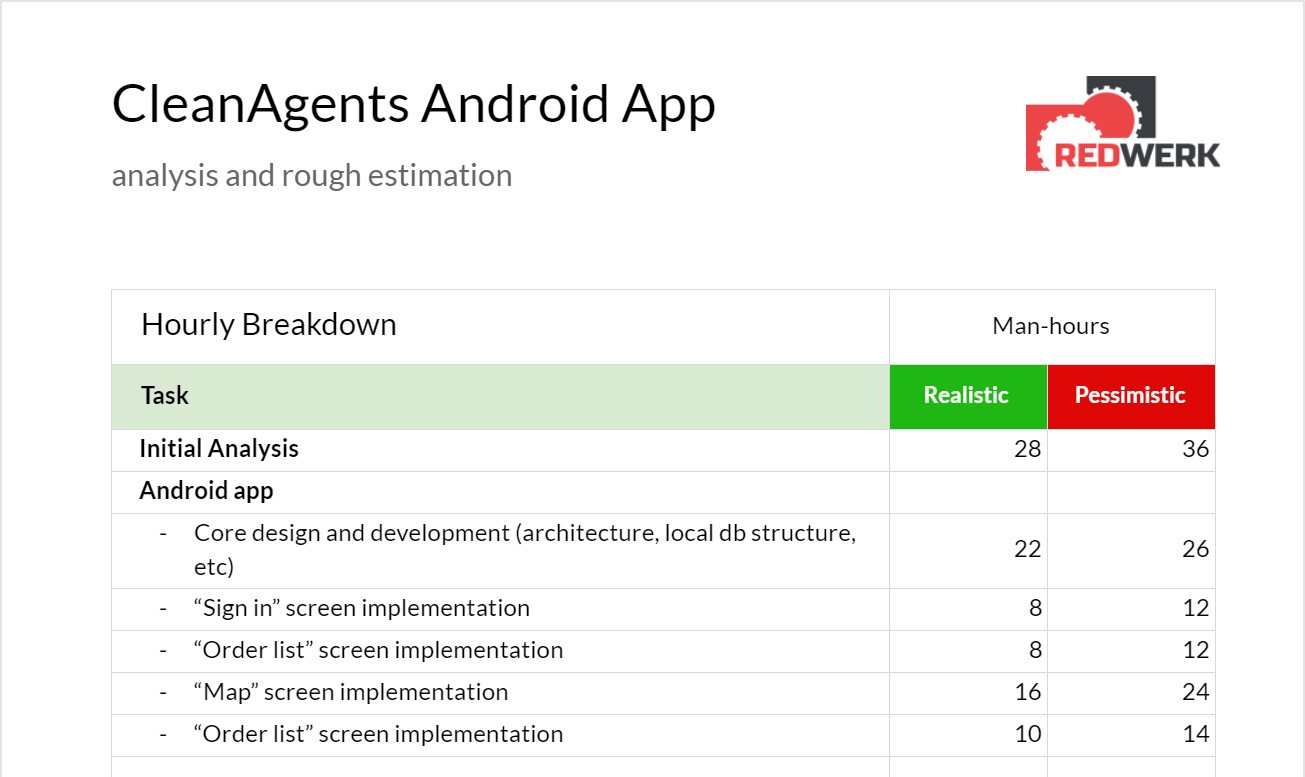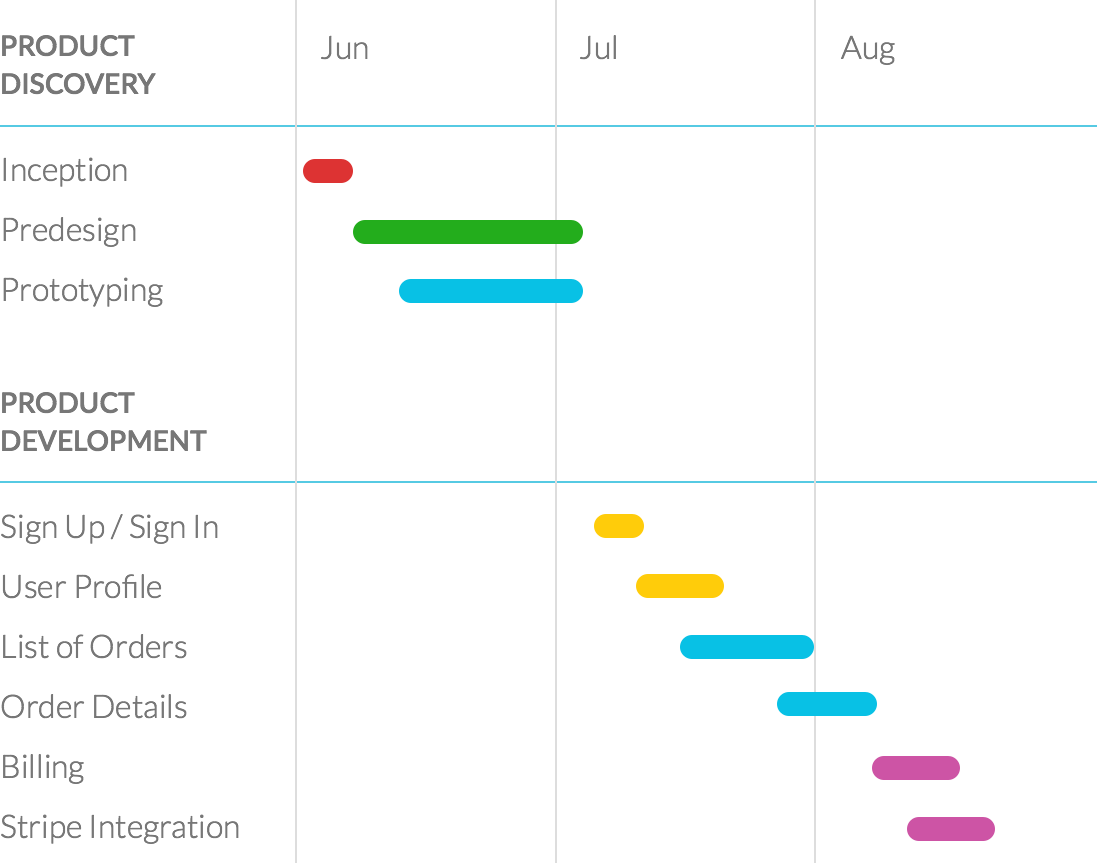 Once we have agreed upon the project scope, we start allocating resources, planning the efforts to communicate the final deadline to you. The result is a Gantt chart we strictly follow.
When we're all set and ready to work towards the project delivery, managing your budget expectations as we go. During development, normally you get access to our test server where you can see your product being developed, and to our issue-tracker, where we log the hours on a daily basis for better transparency.
We Accept All Types of Payments
We want our payment options to be convenient, flexible, but, most significantly, secure. That is why, except bank transfers and PayPal payments, we also accept cryptocurrencies.
Personal data protection and fraud prevention are the main reasons we decided to do so. You can pay not only in bitcoin but other cryptos too.
How We Start
Now
Tell us about your project, click Send
in 24 hours
We will contact you and help plan development effort
in 1 week
Sign master service agreement, schedule team allocation
in 10 days
Setup communication, prioritize tasks, set milestones
in 1 month
First tangible results
IT Development Projects: Selected Cases
Over 250 custom software development projects completed in 22 countries from America to Australia.
Why Us
Business Analysis
Many start-ups in our portfolio had no technical staff, and we do know how to deal with it. Our team studies the specifics of your projects and can build the entire software development process for non-technical clients.
Perfect Process
Over the years, we've faced many problems and found numerous workarounds. That's how we polished our software development process, and now can confidently guarantee quality and timely results.
Maximum Agility
Before you get the final product, we can quickly deliver an MVP (minimum viable prototype), so you could check the most critical features and logic.
Management and Communication
We choose the most convenient way in touch with our clients, and our project managers keep you updated at all times. In addition, our excellent English skills help to avoid misunderstandings.
Legal Protection
We respect the confidentiality of our customers and sign Non-Disclosure Agreement (NDA). This document ensures that access to the confidential information is restricted to third parties.
Fast Ramp-Up
We have a resource pool, that is ready to start working on the project immediately after we get requirements and materials.
Price Advantage
Hiring an external team helps you to focus on your business goals. Besides that, transferring your project development to Eastern European companies saves your budget substantially.
Intellectual Property Rights
Your project is 100% yours. Intellectual Property rights on software we developed are completely transferred to the client.
Working Hours & Time Zones
No matter where you are – in the USA, Europe, or Australia – we can adjust our working hours to make sure there is an overlap with your specific timezone.
I worked with Redwerk while at a previous company. When a project popped up while at Universal Music Group, I immediately reached out to Redwerk. I knew that they had the skill set as well as the proper management to get the project delivered on time, on task and on budget. Even when the project scope needed to shift, they made sure to deliver exactly what I needed. I definitely recommend them for any of your development needs.

Redwerk team was tasked with rapidly developing the first version of a brand new product for Quandoo and they did so with flying colours. In spite of complexities of the project and an extremely tight deadline, the team was able to deliver an outstanding product to the benefit of Quandoo's customers. Redwerk's team flexibility and ability to adapt to changing circumstances and Quandoo's request, be consistent with deadlines and commitments were outstanding and I highly recommend Redwerk as the go-to outsourcing company for a project of any complexity.

We selected RedWerk for their dedication and professionalism designing and developing SystemDataRecorder performance monitoring system for Windows platforms. Long hours testing and ensuring the software works without problems makes RedWerk a solid and mature partner for software development.
Got a software development project?
We are ready to implement your most challenging ideas and projects.
68%
CHOSE TO HAVE
A DEDICATED TEAM
AFTER A PILOT PROJECT
50m+
users of solutions
we develop