Healthcare Technologies
remains one of the most rapidly developing areas of today's world. Realizing the importance of people's well-being, we're always eager to provide healthcare IT outsourcing solutions and contribute to your future health projects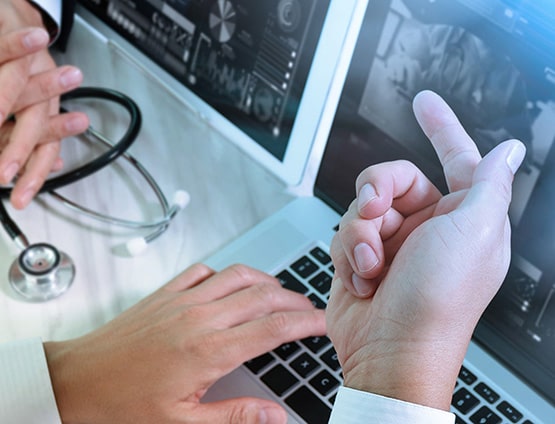 Healthcare IT is rapidly evolving, and every day it brings innovations to the market, some of which completely change the world. Just think about such examples like Foldit which drives the community to solve the hardest medical puzzles helping to find cure for different diseases. Or Apple's ResearchKit which helps gathering user health data for medical research. Theranos, Q Sensor, you name it.
All these wonderful examples give medical companies an inspiration for improving their technology base implementing innovative healthcare solutions. IT outsourcing is a chance for even small medical organizations to facilitate their business and customer experience with the latest technology. Moreover, many companies are actually software products designed to improve and push forward healthcare services and research practices worldwide.
Healthcare IT outsourcing makes it possible to create innovative solutions and save the budget, so that medical organizations can spend more funds on research. Redwerk company provides its healthcare clients with IT outsourcing experience that stands out and brings to the market solutions that eventually improve and save people's lives.
Healthcare Solutions Development
Nowadays healthcare industry like no other needs quality software solutions that can help in operating with patients data, managing technologies in hospitals, conducting diagnostics of diseases and calculating medical indicators. That's why healthcare application development is in demand. With the variety of modern software technologies, experienced IT engineers and programmers can realize almost any assigned task, and Redwerk team is not an exception. Our qualified healthcare app developers had a deal with many projects for eHealth industry worldwide and showed successful results in their implementation.
Healthcare Mobile App Development
Mobile industry continues to grow, so as the number of healthcare apps. Facilities management solutions, prescription reminders, care planning and reference apps gain popularity on app markets, and many health organizations apply for us for medical app development for mobile devices. We have a vast experience in creating applications of various complexity, and solving even most complicated tasks is not a problem for us. Redwerk knows how quality healthcare mobile app development should be, and ready to provide you with our services.
eHealth Software Products We Develop
Clinical Applications
Patient records databases and order data entry software, clinical decision making support applications and others.
Analytics Software
Healthcare data analysis systems, performance management systems, data visualization software solutions.
Consumer-Focused Applications
Patient portals, mHealth solutions, specialized social networking systems, patient engagement apps, educational applications and others.
Integrated Systems
Home healthcare and wellness embedded systems, lifestyle applications and software for health bracelets.
Why Us
Quality Guarantee
We offer free support on all healthcare IT outsourcing projects for the first three months. We also include free QA in every product we deliver.
On Time, Every Time
At Redwerk, we've met every deadline we've ever been given. We have the expertise and methodology to ensure our clients get the functionality they need, when they need it.
Experts You Can Rely on
All the mistakes made and all the solutions found over company's history resulted into a honed-to-almost-perfection software development process you can easily rely on. Simply tell us what you need and be sure to get the job on time.
Bridging the Information Gap
Are you a non-technical customer? Not sure where to begin or what questions to ask? That's fine – we also have experience working out the precise needs of our clients, even if they don't know the right words to describe them.
100+
software projects developed
10+
years of software development experience
42%
clients are word-of-mouth referrals