Innovation
in Android application development to help tech and startup companies put their ideas to work is what we specialize in
Custom Android application development is an attractive service that we offer because the Android platform is used by over 1 billion active users around the world. If your company needs to reach a wide, diverse audience positioned across the globe, then our Android app development services could be perfect for you.
Android continues to be one of the fastest-growing operating systems available on mobile to this day. With such a large international user base, and few compatibility issues, it's safe to say that Android development outsourcing services are high in demand. And, that's exactly what Redwerk is here for.
Java is at the heart of the Android platform, and Redwerk offers you a number of Java-savvy developers who are at the forefront of the best Android app design and development. When you decide to work with Redwerk, you can rest assured that each of our Android developers have at least 2+ years of development experience, and a track record of successful project completions.
Redwerk knows the best ways to go about choosing the right technology for the right platform whether you're considering an iPhone applications development or Android apps. We are determined to help your company achieve maximum mobile app downloads, increased sales, exceptional branding and even hands-off business automation.
Our Android App Development Services
Native Android App Development
Shortly, a native application is a software program that is developed for use on a particular platform or device, and that requires installation. Therefore, our developers are proficient in programming skills in a particular development environment (xCode for iOS, Eclipse for Android), so that, at the output, it gives a nice appearance and smooth interaction of the application with the mobile OS.
Hybrid Android App Development
A hybrid application is therefore called a hybrid application because it combines some of the features that a native application and web application has. If you are about to launch a solid and flawless cross-platform application that is apt to work with phone software, then Redwerk is the right company to urge.
Android Wear Development
The wearable devices are increasingly popular nowadays. Wear OS by Google (formerly Android Wear) created specifically for small devices that can be worn on the hand, extends the capabilities of the watch by synchronizing it with the phone. Our creative and tech astute team will embody any of your ideas so that you manipulate your phone without getting it out of your pocket.
Business Analysis
Product quality is the quality of requirements. The quality of requirements is an analyst. To do this, s/he must have knowledge in the subject area, though. Our skilled business analysts will constantly mediate between you and the team to help both sides understand each other, and as a result get an implementation that will satisfy everyone.
UI/UX Design
Design is the first thing you pay your attention to when you open a web page or application. User experience mainly depends on the design, as well as how it promotes brand recognition. In order to ensure the necessary amount of traffic, to bring the desirable conversion our UI/UX designers at Redwerk are apt to build an attractive unique design that will be able to give the user what s/he expects immediately after opening the home page.
Apps Upgrade and Maintenance
You couldn't be more wrong if you think that once an app is created and launched on the app store it will run happily ever after. To make the people download, use and not uninstall your app you need to maintain your mobile app. Maintenance includes adding new features, offering the latest OS update, bug fixing, user experience enhancement, polishing of user interface – all these services are available here, at Redwerk.
Custom Android App Development Case Study
Redwerk was contracted with an innovative startup CleanAgents. Our team developed an application for the simple ordering of such a traditional service as cleaning. The app allows cleaners to view and receive orders from customers nearby, and use the map for viewing routing options to reach their workplace quickly. CleanAgents have already provided the service through the website, and adding an Android app was a necessary step in service development. For Android-based developing, our devs used libraries such as GreendAAO, Retrofit, EventBus which allowed creating the high performing application in a short time span.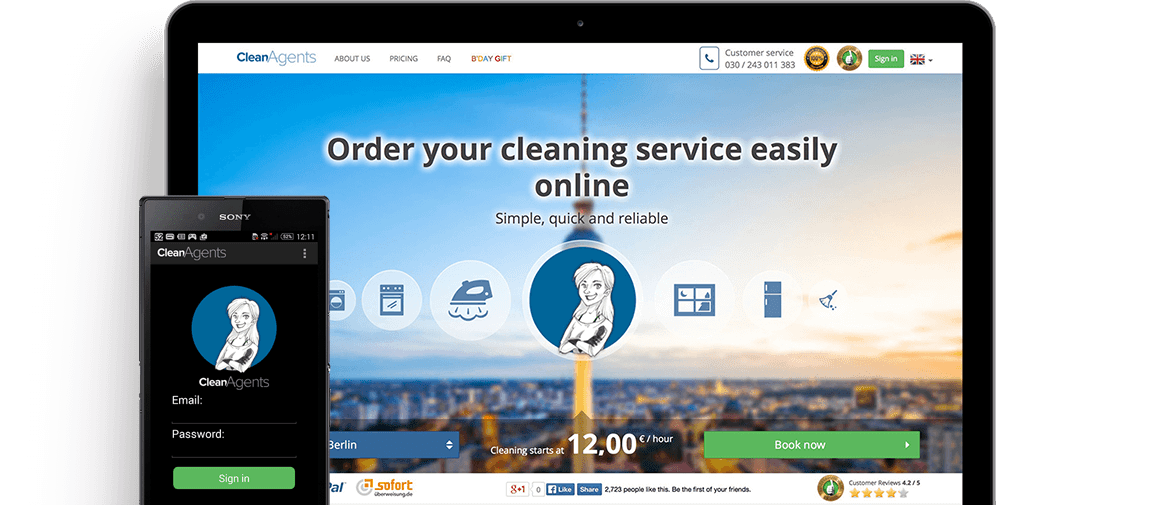 Why Us
Skilled Android Java Developers
If you're looking to outsource Android development, you should know that Redwerk employs skilled developers who are experienced in Java, which is the programming language used to build Android apps.
Management and Communication
When you outsource your Android development project to Redwerk, you'll have a dedicated team of developers, and a business analyst working directly with you. This makes communication a breeze. Plus, our team's excellent English skills makes it easy for you to express your ideas, and get the end-result that you need.
Legal Protection
We'll sign your Non-Disclosure Agreement (NDA) to ensure that your project is kept confidential, and restricted from access to third parties.
Price Advantage
Outsourcing to Eastern Europe ensures that you receive the best build-quality and pricing on custom Android app development in the world. Our rates are up to 35% less expensive than most development firms, with the added benefit of superior build quality.
Intellectual Property Rights
Your property is yours to keep. Intellectual Property rights on software are always transferred to the client.
Working Hours & Time Zones
Depending on your location, we can typically adjust our schedule to ensure that there will be a mutual time when we can communicate in real-time.
2010
is a year we started to develop for Android
5 mln
total users of the apps we developed
45%
of our overall projects are in Java