Let your business work from the pocket
We help tech and startup companies put their ideas to rock on any Android screen
Quality Android mobile application is the way your client interacts with your business nowadays. When you choose to be omnichannel, it is crucial to be represented through all platforms and devices equally and bring additional value in each of them.
We at Redwerk help businesses to create seamless Android mobile applications based on the real aim, that is why our Android developers are oriented at bringing valuable solutions and useful functionality.
When choosing to develop an Android app with us, you get a digital partner with an extensive knowledge and experience in the field. Full-cycle development, established workflows and dedicated team will do all work from scratch, for a seamless performance across all types of Android devices.
Redwerk knows the best ways to go about choosing the right technology for the right platform whether you're considering an iOS App development or Android Apps. We are determined to help your company achieve maximum mobile app downloads, increased sales, exceptional branding and even hands-off business automation.
Our Android App Development Services
Native Android App Development
Our developers create all code in Android-specific programming languages, which ensures faster turnaround time and high-end Android features.
Hybrid Android App Development
We develop solid Android apps through the hybrid development approach, which allows writing and using one code anywhere.
Custom Android App Development
We develop custom Android applications that run on all types of Android devices and address your specific business requirements.
Enterprise Android App Development
We offer Android mobile solutions for use across various business verticals to improve
your business processes.
Android App Design Development
Our UI/UX designers can build an attractive unique Android app design that will satisfy your product users.
Apps Upgrade and Maintenance
Our maintenance services include adding new features, offering the latest OS update, bug fixing, user experience enhancement, polishing the user interface.
Custom Android App Development Case Study
Redwerk was contracted with an innovative startup CleanAgents. Our team developed an application for the simple ordering of such a traditional service as cleaning. The app allows cleaners to view and receive orders from customers nearby, and use the map for viewing routing options to reach their workplace quickly. CleanAgents have already provided the service through the website, and adding an Android app was a necessary step in service development. For Android-based developing, our devs used libraries such as GreendAAO, Retrofit, EventBus which allowed creating the high performing application in a short time span.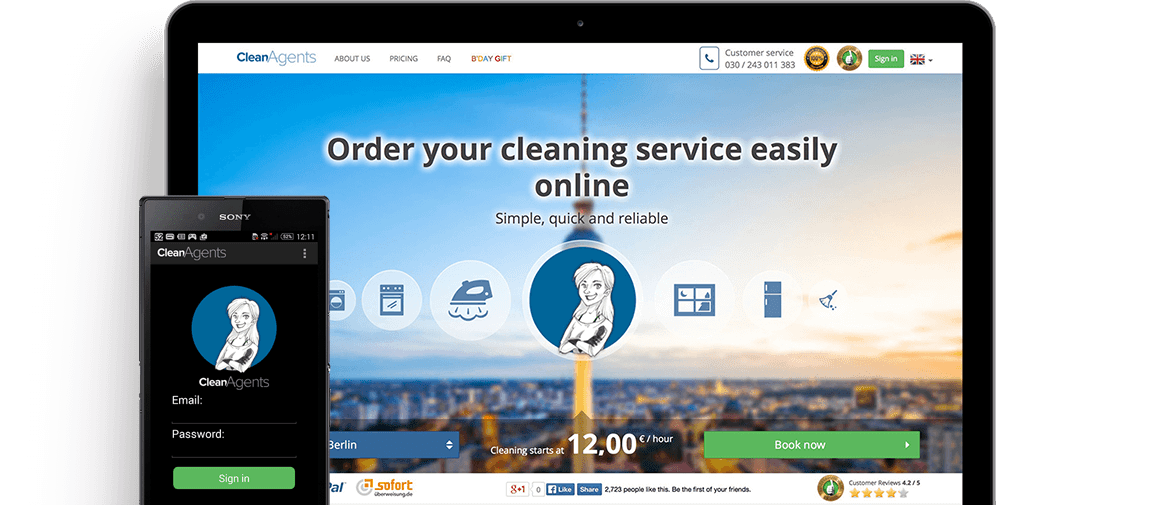 Why Us
Skilled Android Developers
Our Android developers have deep knowledge of the Android platform and can help you get the widest audience reach with our Android development solution.
Management and Communication
We provide developers and a business analyst that works with you directly. Our team also has excellent English skills, which makes communication easier.
Legal Protection
We sign a Non-Disclosure Agreement (NDA) to ensure that your project is kept confidential and restricted from access to third parties.
Intellectual Property Rights
All rights on the software developed by our programmers belong to the client.
Working Hours & Time Zones
Depending on your location, we can adjust our schedule to ensure that we communicate in real-time.
Looking to outsource Android development?
2010
is a year we started
to develop for Android
5 mln
total users
of the apps we developed
45%
of our overall projects are in Java