We had lots of fun on our annual corporate seaside trip on August 28–30, and we're happy to share all the good vibes we brought back from the picturesque Azov seashore. Redwerk has just hit 10 years in business, and this trip was a great chance to reflect on the past decade, celebrate our successes, and dream up some exciting plans for the future.
As you probably know by now, Redwerk has two offices in Ukraine: one in Kiev, and the other in Zaporizhia. Although our development team is separated into two groups in two different cities, we're a close-knit bunch all the same, and we look forward to these events as a chance to get together, touch base, and make some memories.
We checked into our hotel Friday morning and went to the beach straight to the beach. Nothing but perfect weather the entire three days we were there! August 28 was the birthday of Dima Yerygin, one of our .NET software developers from Kiev, and he decided to celebrate it with the rest of the team!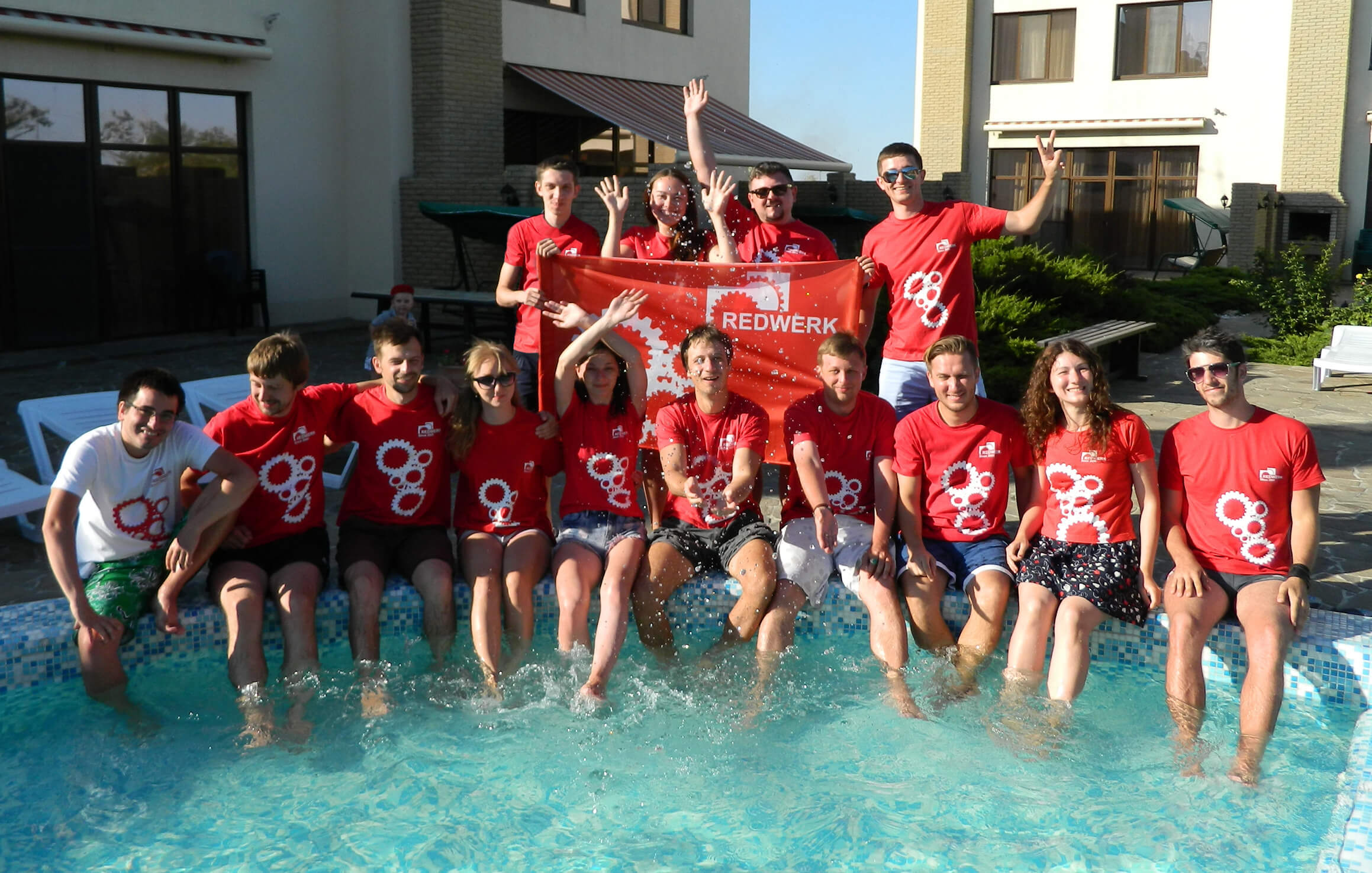 At the end of a long day of relaxation and enjoyment, we decided to do some dancing at the local club. Just because we're programmers doesn't mean we can't dance! (Or does it?)
On Saturday we visited the nearby water park with its huge swimming pool and plenty of crazy slides. Some video clips are coming soon!
It was sad to have to say goodbye to each other, but that didn't stop us from enjoying the sunny seaside during the last hours of our vacation – or taking some great photos to remember it by!
We hope you had a great summer, and that you're tanned, rested, and ready for exciting new projects! We look forward to hearing from you this autumn!
About Redwerk
For almost 10 years now Redwerk develops various solutions for e-government, broadcasting, business processes and workflow automation. By years we've polished our workflow to cover software development process from A to Z, so our customers will always get predictable, on-time, and awesome quality result. Redwerk has its representations in Ukraine, Germany and USA.
Projects We Have Done
Hear From Our Customer
«Working with Redwerk is like having a development team right in the next room. The team is incredibly responsive and reliable. They are creative and go above and beyond in offering options and solutions to meet our specifications. At all times if feels as though Redwerk is personally invested in our success and a natural extension of the 9yahds family.» — Pamela Simpson, Founder at 9yahds, Inc.