Augmented reality is a technology that allows adding digitally created content to real-life settings using the device's built-in camera. Some of the most commonly used AR applications are Word Lens on Google Translate, Snapchat, Google Lens, and even Instagram filters. AR might seem like futuristic technology, but it is highly applicable even now. Translating a sign or using a Snapchat mask, most of the smartphone owners are utilizing augmented reality. Recent studies estimate that by 2023 there will be around 2.4 billion augmented reality apps users in the world. This technology is expected to reach $70-$75 billion in revenue by 2023.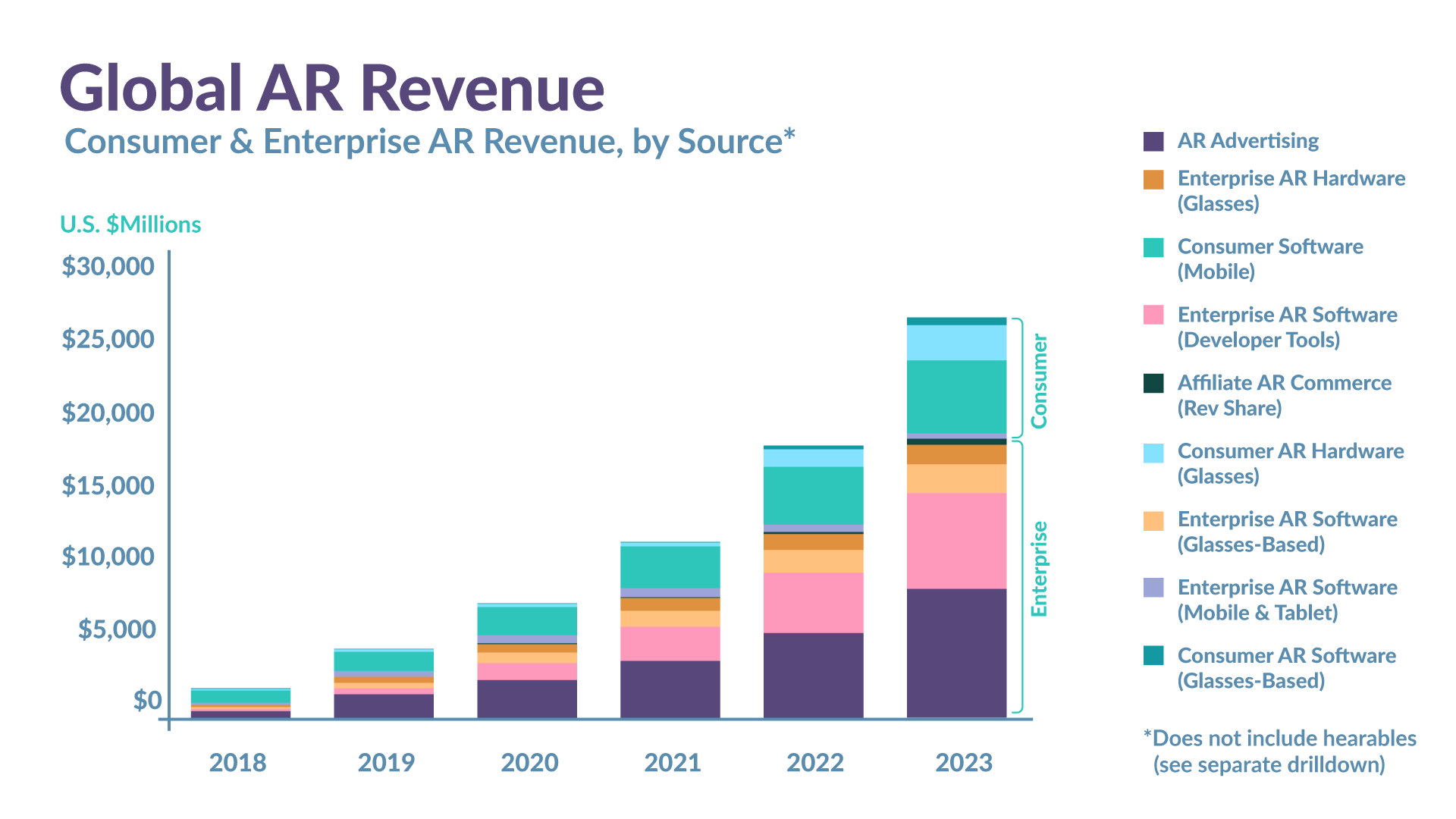 This relatively new technology can be highly beneficial for the business. It can help with both inside processes and reaching the customers. Some of the benefits of AR in business include:
Optimization of inner processes and manufacturing
Effective learning and training for the employees
Marketing advantage: using AR in ads
Better customer service
Creating unique products on the market
The benefits of using augmented reality in business are quite clear: it helps provide better service while saving time and resources. But what are the drawbacks of this technology?
First of all, despite being on the market for more than 20 years, augmented reality is quite new for many people. They might be reluctant to use something so different from their routine processes. Implementing AR inside the company might be a challenge at first, but only until the employees see its benefits.
One more drawback can be the price of implementing augmented reality. Developing an AR app can be quite expensive, especially for smaller businesses. The cost of such technology will rise if you are willing to use specialized AR hardware, such as glasses.
In this article, we list some of the most compelling augmented reality use cases as well as discuss wheres and hows of augmented reality app development.
Where can you use AR?
eCommerce
Retail businesses can use augmented reality apps to provide better service using 3D modeling. People often have a hard time visualizing a new chair in the flat or understanding if a coat would fit them. 3D models can help with this. More and more retail brands are offering AR apps to let their customers understand better what exactly they are getting. Makeup, clothing, furniture, cars, the list can go on. It is clear: augmented reality is the way to improve shopping, especially online.
IKEA created an IKEA Place app that shows how a particular furniture piece would look in your interior. With a digital true-to-scale model, the app lets you put the item in your space to help with decision-making.
British online fashion brand ASOS added the virtual catwalk feature to its app in 2019. The virtual model appears just in front of the user to demonstrate the clothing items. Such an unusual approach introduced the customers to the new online shopping experience. Additionally, during the lockdown, ASOS used AR to demonstrate new clothing on models. The item is digitally mapped on the model's image, considering the size, fit, and cut. Should we mention that such an idea not only improved customer satisfaction but also gave ASOS quite a few press appearances?
Augmented reality can also significantly help after buying the product. Many companies offer AR maintenance instructions and guidelines. It is a great way to show your customers the support and care and reduce warranty and maintenance expenses. Self-service apps are one of the options for providing customer service.
For example, Mercedes offers support via its app Ask Mercedes. It is a virtual assistant app that combines chatbox with augmented reality. AR allows the user to understand the functions of the car parts interactively. Pointing the smartphone's or tablet's camera on the particular object, the user gets the explanations on how it works.
eLearning
Augmented reality has proven its usefulness in the learning process. From universities to big corporations, this technology helps people perceive new information faster and more effectively. Visualization of otherwise abstract notions and step-by-step guides reduces learning time and increases the understanding of the topic. What is more, thanks to AR, information is accessible more than ever: no need for long Internet browsing or asking an expert.
One example of eLearning use of AR is the Civilizations app launched by the BBC. With this app, the users can explore ancient artifacts from the British museums layer by layer: from their present appearance to how they looked when they were first made
Augmented reality is applicable for all ages of learners: from the kindergarten to the employees. For instance, the Narrator app helps children learn how to write: it takes handwritten letters and creates an AR animation.
eGovernment
Augmented reality can be highly applicable in the area of eGovernment solutions. AR can aid with data structuring and visualization, conveying information, and providing governmental services. Immediate translations, graphic instructions, presenting new projects – these are only some of the possible AR applications.
The idea of AR in the public sector is relatively new; in the US, several programs include implementing AR in the eGovernment processes, such as Emerging Citizen Technology and Digital.gov.
Healthcare
Healthcare is the area where augmented reality has the potential of becoming indispensable. AR aids with diagnostics, surgeries, and other medical processes. The visualization helps healthcare professionals locate the internal organs and bones, overlay X-ray results, see the patient's health history, compare the symptoms with possible diagnoses, and much more.
Additionally, augmented reality can be beneficial not only for the professionals but also for patients. They can easily access information to educate themselves or communicate with the doctor.
One of the most promising medical AR companies is the US-based Augmedics. They created an augmented reality guidance system for spine surgery called xvision. It allows surgeons to visualize the patient's spine anatomy via a transparent headset instead of looking on a separate screen. Such an approach significantly improves the process as it gives the surgeon better control over the process, making the surgery safer and quicker.
One more excellent use case of augmented reality in healthcare is SentiAR. The platform features a 3D visualization of a patient's heart anatomy to assist with diagnostics and surgeries. The solution can be useful both for the patient and the doctor: it is a way to analyze the possible condition, illustrate and explain it to the patient, and make the treatment process simpler.
Gaming
Gaming is probably one of the most apparent industries for augmented reality use. The most popular AR use case ever, the game app Pokémon Go, introduced many people to this technology. It is true: augmented reality is highly applicable in the game apps. It makes the gaming experience incredibly immersive and personalized as the player is still in real-world settings.
There are many excellent AR gaming app examples. Apart from the well-known Pokémon Go, users can enjoy such AR games as Zombies, Run!, where the AR zombies inspire many users to do their daily exercise, or AR option of Geocaching, the largest treasure-hunting app.
Media and entertainment
One of the most common contemporary uses of augmented reality is in the media and entertainment industries. Augmented reality is still a comparatively new and unique technology – it attracts attention and makes the company stand out. Launching an AR app is a way to gain brand recognition and make your marketing strategy highly engaging. People like trying new things, and if you make this opportunity free and easily accessible, you won't go unnoticed. There are many ways to promote a brand using AR: from makeover apps and filters to having monsters and UFOs on the bus stop like Pepsi did.
Storytelling is a pillar of marketing and entertainment industries, and augmented reality is a perfect storytelling tool: it illustrates and extends the stories. The American newspaper The Washington Post enhanced its art and architecture article series with an AR app feature. They introduce six architectural structures and, with the aid of AR, demonstrate how those buildings were constructed step-by-step with all the problems faced and their solutions. They also presented an article that includes the dinosaur skull in AR if opened from an iOS device.
Construction and design
AR is beneficial for design and construction: 3D modeling allows seeing the object in its future placement. It shows not only the object itself but all of the layers of materials. AR is great for planning and visualization, as well as the facilitation of the construction process. Using this technology helps see if the current work matches the original design, if there are any infrastructure problems, and overall aids with avoiding misplacements and construction errors.
The US-based BNBuilders used augmented reality both to present the designs to their clients and facilitate the construction process. On a construction site, they offer the customers an iPad or a smartphone with a future work model in the existing surroundings. Needless to say, such an approach helps with communication as the clients can see if the planned project is precisely what they wanted.
The use of AR inside the company
Augmented reality in business can be used not only for creating products but also for making the process more productive. The companies can benefit from AR in various ways, from reducing production errors to teaching new employees.
Work optimization
Augmented reality has proven its usefulness in production and manufacturing. AR helps increase the quality of inner processes while cutting down the time spent on them. With AR, every object is enriched with some additional information, which enhances the productivity of work. The employees don't have to look up some necessary information each time or rely on their memory. Hands-free devices, such as AR glasses, are especially useful: the workers can access all the data without interrupting the process. What is more, AR also improves team communication, providing better real-time interaction.
DHL shows the effectiveness of AR in logistics: they use it for warehouse operations, driving, and deliveries. Smart glasses and heads-up displays provide task information, scan barcodes, and give navigation instructions. The company shares that using AR glasses during the picking process in warehouses can decrease errors by about 40%.
Workplace training
Big companies have already started using augmented reality for training: the process becomes faster with fewer safety risks. For example, Boeing shares the first results: the company introduced augmented reality animated instructions on tablets. The group of trainees who used AR tablets was 30 percent faster and 90 percent more accurate on their first tries than the groups using only a PDF instruction on a tablet or desktop computer.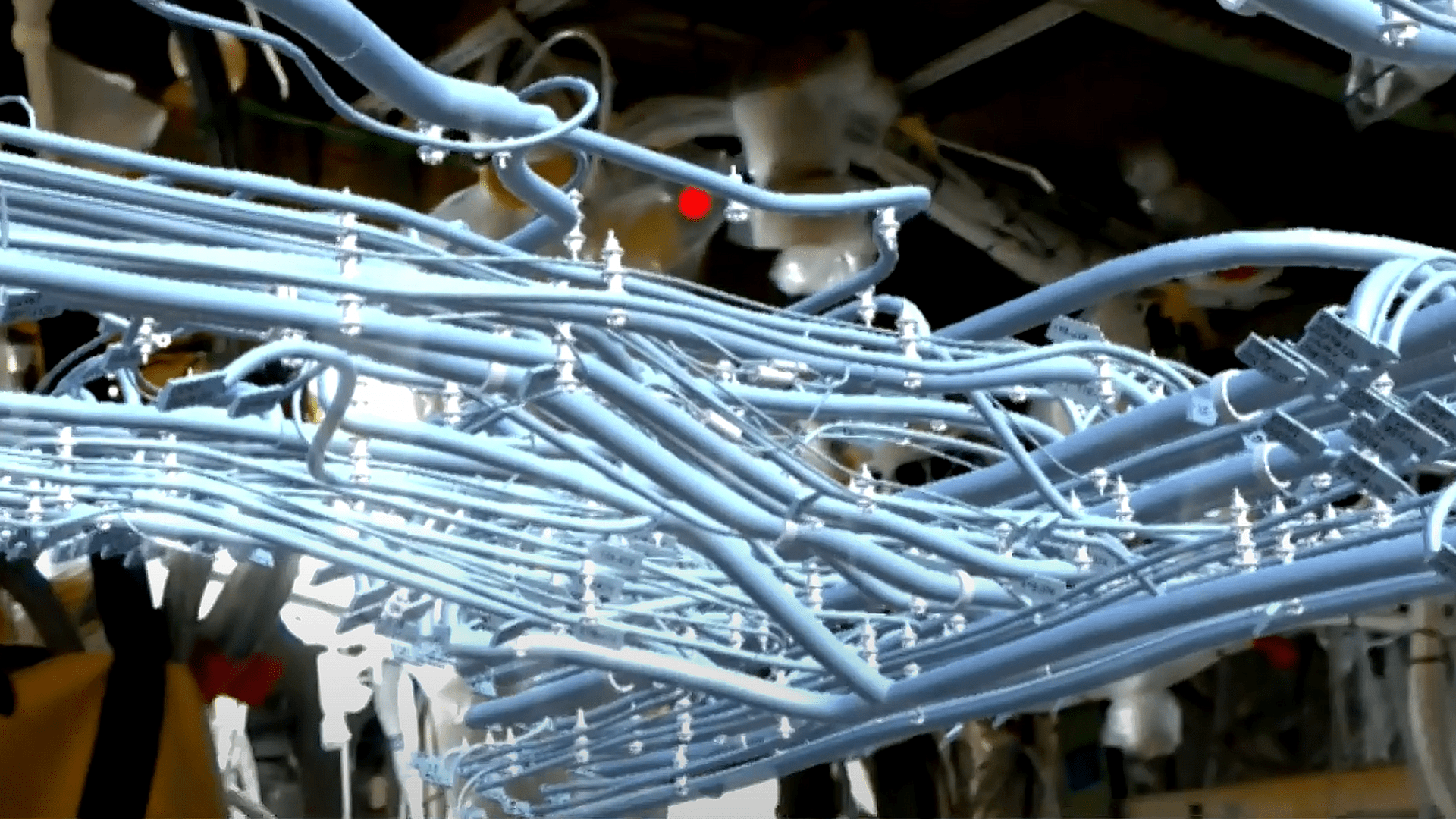 AR development: the tech stack
Like virtual reality, augmented reality might seem like an advanced technology that is not very accessible for businesses. But that is not true: with the right development team creating an AR app is a reachable idea to help your business thrive.
The necessary hardware is quite simple: a smartphone or tablet is more than enough for most of the ideas. If you would like to implement augmented reality in manufacturing or construction, you might be interested in hands-free operation tools, such as AR glasses.
Many companies offer smart glasses, prices starting from $700 for Moverio DT-300 by Epson to more expensive listings by Google and Microsoft.
Most often, augmented reality is accessed via apps. Of course, developing an AR app is quite a complex task. There are two main types of augmented reality apps: marker- and location-based. Marker-based apps use the image recognition system to start the AR display. In contrast, location-based apps rely on GPS, accelerometer, and digital compass information to add contextual augmented reality to the physical surroundings. There is also SLAM (simultaneous localization and mapping) augmented reality when multiple sensors are used.
Developing an augmented reality app involves the knowledge of specific AR development SDKs and frameworks, such as Wikitude or Vuforia. Apple and Google offer their own AR development kits ARKit and ARCore. The choice is quite vast, so the AR developers can choose the kit that suits their needs the best.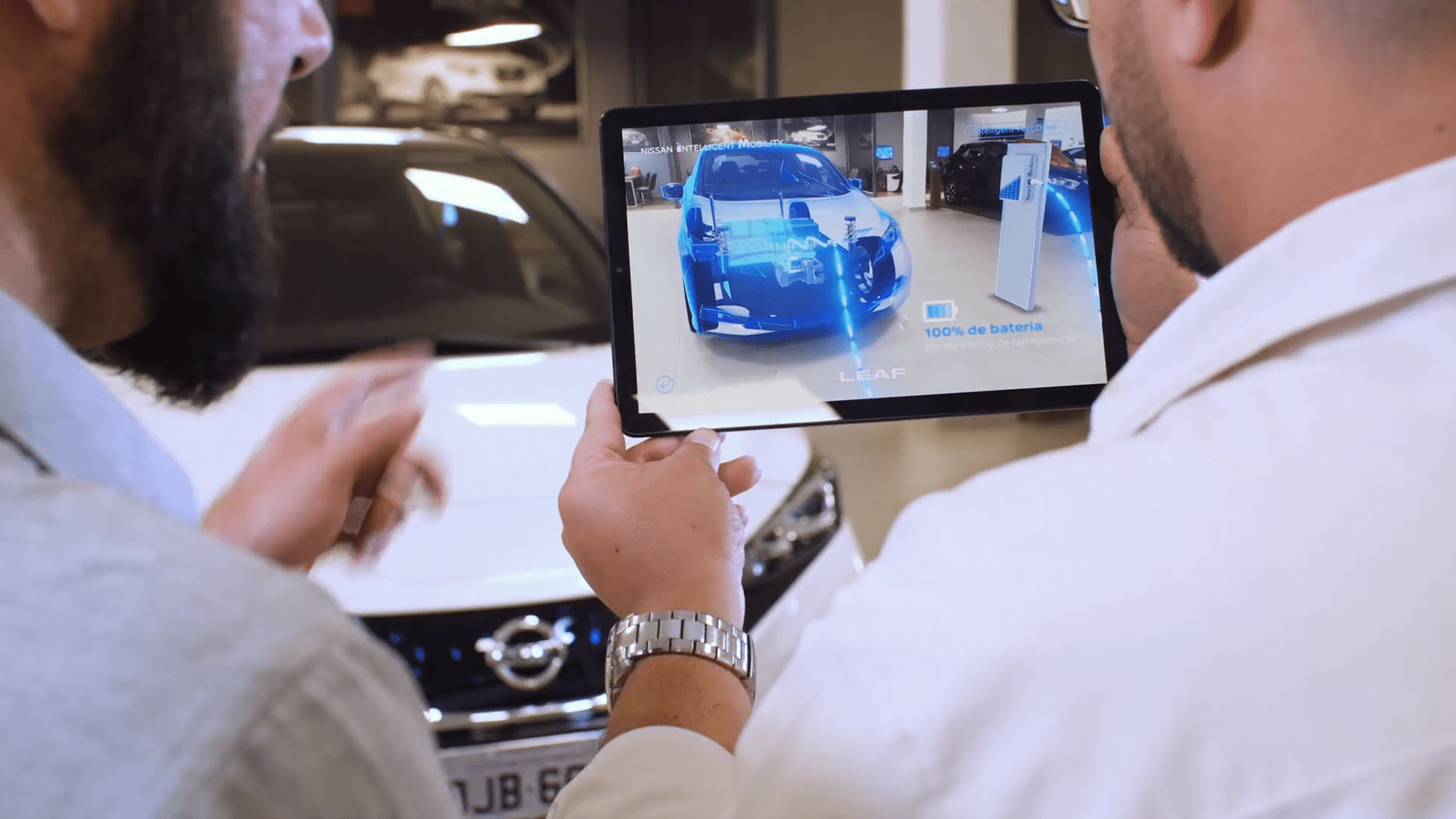 3D artists draw and create models, working in a team with the developers. The developers incorporate the models into the app using Unity 3D: a cross-platform engine, meaning that different operating systems can support it. Also, Unity 3D allows the developer to see how an app will look like on a device.
In-house development or hiring a team?
As we mentioned above, augmented reality is quite new and complex technology. Is it better to hire a development team in-house or trust an agency with the project?
Both approaches have their pros and cons. While having an in-house team gives you more control over their work, it is not that easy: you have to know how to organize the workflow, AR app development specifics, and often manage the team of people who never worked together before. What is more, not that many developers specialize in it, let alone are truly professionals in this area, so hiring a skilled team might come as a challenge and take time.
On the other hand, an app development agency has already formed a highly skilled team with AR development experience. It might feel like you have less control over the results, but with the right communication process, there should be no problems. Working with the agency saves both time and money: the rates vary greatly in different parts of the world.
Is AR app development expensive?
Not all mobile development companies work with AR. There are fewer professionals in this area, making the price for such type of app development significantly higher. Creating marker-based AR apps is easier and less costly than location-based ones as for the latter, sensor integration is necessary.
The rates for an augmented reality app depend on such factors as the features, app complexity, the technologies used, etc. First of all, it is essential to decide on the platform: iOS and Android application development vary in prices. Android apps are harder to build, which makes them more expensive. The biggest price factor is app features and complexity: many details influence the cost – from the complexity of 3D models to the payment and analytics systems involved. Of course, the experience and competencies of the developers impact the price as well. The technology stack is important, too – the developers can use free, open-source frameworks, or the paid ones.
The project rates vary around the globe, with the lowest prices in India and the highest in North America. While choosing the right team, you should pay attention to such factors as the IT market's development level in a particular country, the costs, and communication possibilities. Not all IT companies can use English for communication or work during business hours in your country.
Suppose you are looking for the right AR app development team. In this case, you might consider hiring a professional team from Eastern Europe: the companies here hire highly qualified specialists as the competition is rather serious. The prices are lower compared with North America or Australia. The minimum price for a simple AR app might start from $30 000 going up as adding more complex features.
Some conclusions
To sum up, augmented reality is step by step taking over the technology world. Today, more and more companies are choosing to implement AR in their inside processes or customer interactions. While being still new and quite pricey to develop, augmented reality might not be the first choice for some enterprises, but its benefits for numerous areas, from health care to marketing, are becoming more evident. Augmented reality app can be a great business scaling up solution. AR is the future of communication: it has all the chances to become vital for numerous spheres. With the right development team , launching an augmented reality app should be smooth and rewarding.