Sometimes there is a need for an app and no budget for custom development in a mobile app development company. Many small businesses and individual experts still need apps to promote their services. If the purpose is not to create an enterprise but simply introduce a new idea on the local market, free no-code mobile app development platforms come in handy. Quick and quite simple, these solutions allow the users with no or little coding experience to make their own apps from scratch.
Creating apps is becoming more accessible than ever, but is it as good as it seems? Is such software a real competitor for native app development professionals? Let's find out.
No-code app development platforms
Constructor-like solutions
Many platforms for mobile app development help users with no coding experience create an app. It is as simple as making a poster in Canva or a website in Tilda. Such software is aimed at beginners who have no idea about programming languages: they usually have simple, intuitive designs and are constructor-like: you don't see the insides of the app, only its future design and functions. Most of such platforms offer drag-and-drop solutions: you can select the preferable option and move it to the app's interface.
Some say that the future is in the app development software for beginners: small businesses are not willing to spend a lot of money on their apps. Often, they don't have such budgets.
Top 5 free app development platforms
Let's take a look at some of the best free mobile app development platforms and explore their advantages. In this guide, we list some options for those who don't have any coding experience but still would like to create an app themselves.
The first advantage of all of them is quite clear: they are free. Custom app development costs money. Even many mobile app development solutions require a subscription fee or a single-use license.
The following platforms can help those who cannot invest in app development and are looking for simple enough solutions.
Swing2App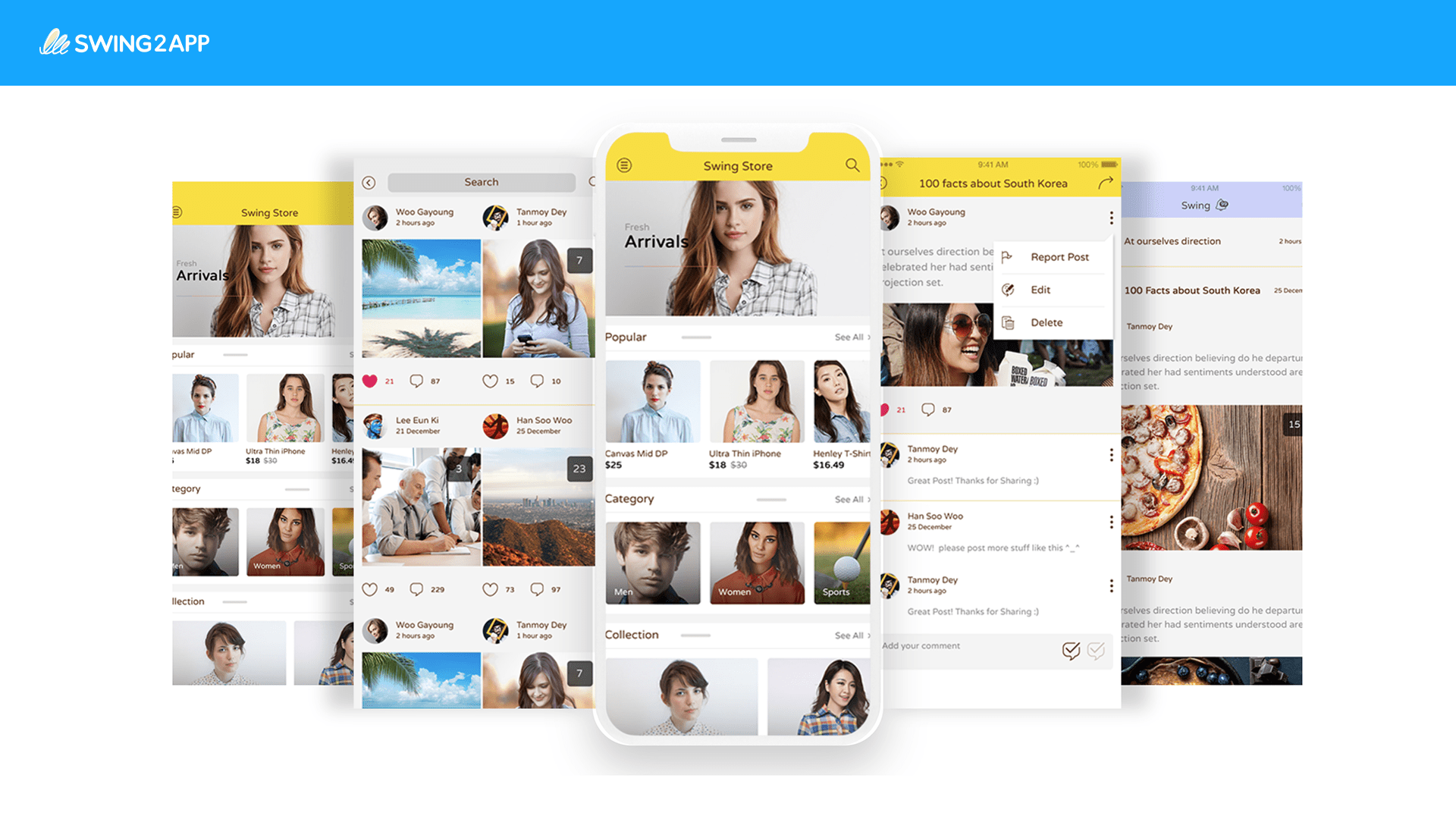 Swing2App is a Korean software for mobile app development. This mobile application platform does not require any specific programming knowledge and has a simple and intuitive constructor-like interface. There are six app prototypes and many features to add. The platform allows editing the app and adding content in real-time, without updating. Users can easily create, test, and fix bugs.
There is a free plan for both private and commercial use. The free version of the platform allows adding your apps to Play Market and has limited storage space: 100 MB. One of the most significant advantages of Swing2App is not only its simplicity in use but also safety. They work with Amazon Web Services to provide daily backups and keep the data safe. It is one of the most popular app-building platforms available.
MobinCube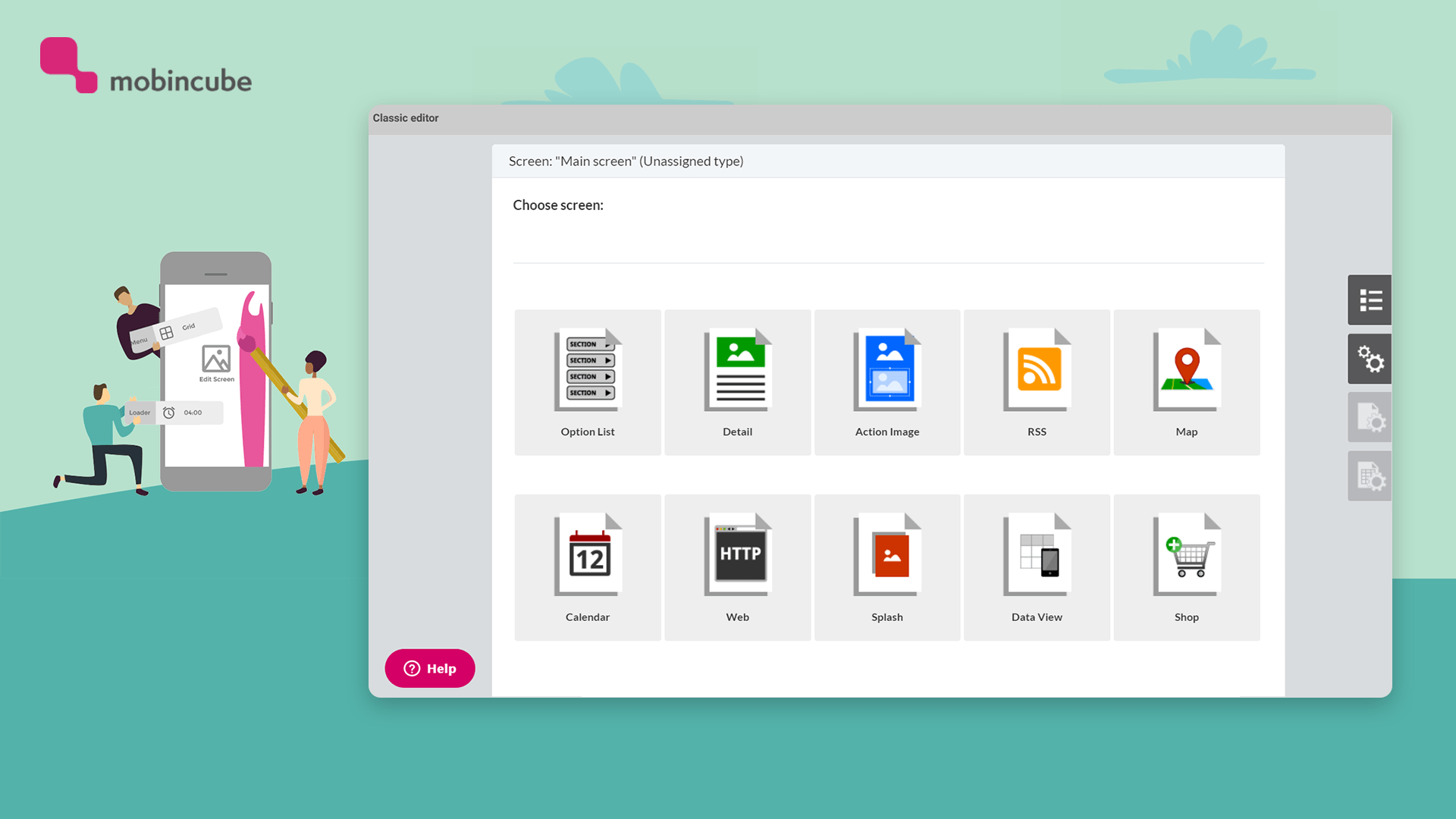 Similarly to Swing2App, MobinCube is a DIY app development platform for beginners that does not require any coding knowledge. This solution offers a simple visual interface for choosing app design and functions. MobinCube has around 30 templates to use that can be easily customized. You can make your app from scratch as well.
The users can post their apps on Google Play, Amazon, and other platforms with no download limit, which is a great advantage. Many features can be integrated into an app, such as Google Maps, databases, audio and video, and Google Analytics. What is more, you can even add push notifications to your app, which is so important for working with clients!
Composer Pro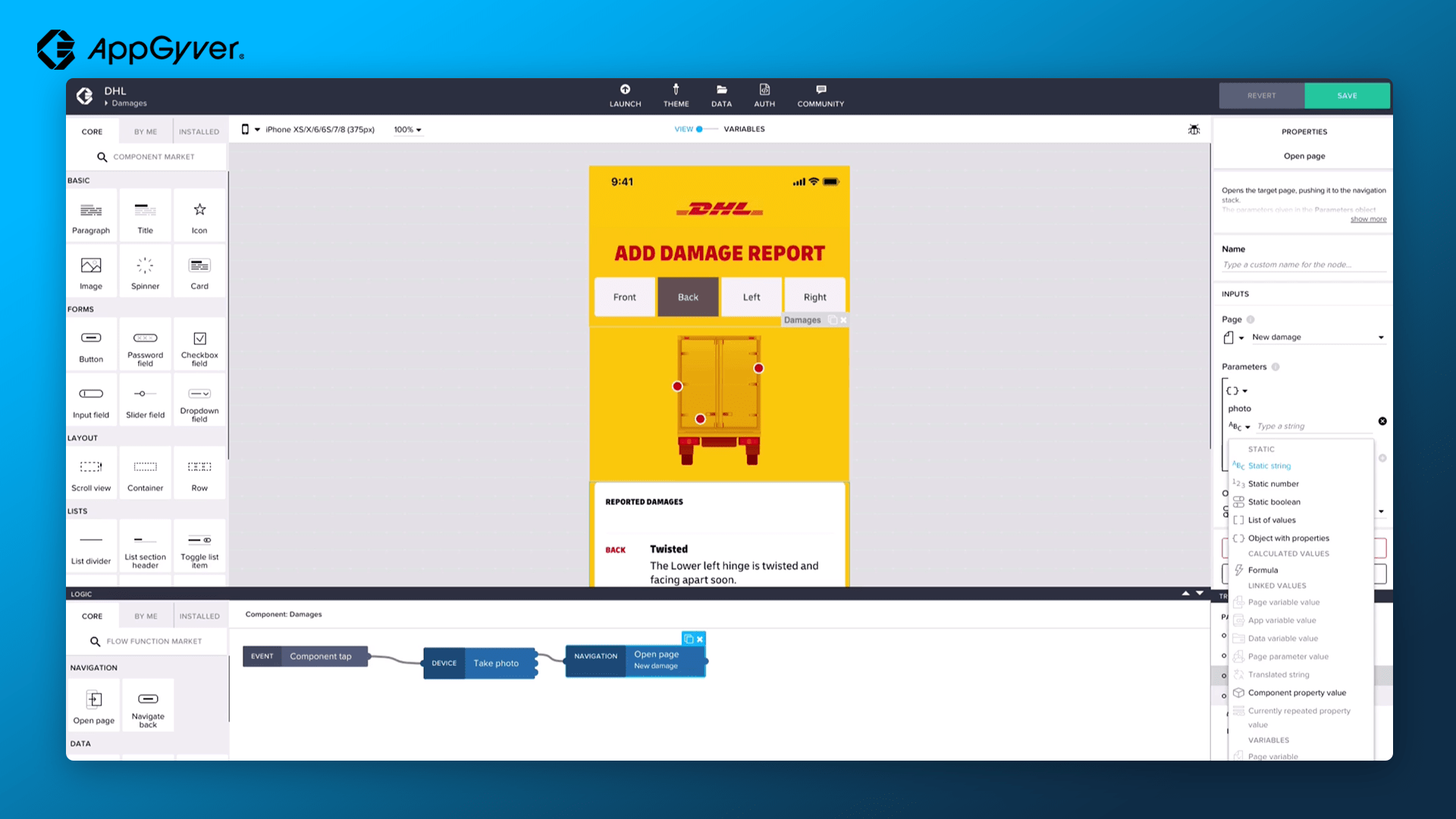 Composer Pro by AppGyver is free for small businesses and individual use. AppGyver introduces itself as a world's first professional no-code app building platform. Composer Pro creates optimized React Native apps, providing access to all native iOS and Android features.
The service offers common for such platforms drag-and-drop visual interface. There are more than 500 UI elements to choose from. The platform features the logic canvas, where you can drag-and-drop the app functions, as well as database integration and management options. The users can also preview the app in real-time on any device.
DHL is using an app entirely created in Composer Pro for trailer fleet management.
AppsMoment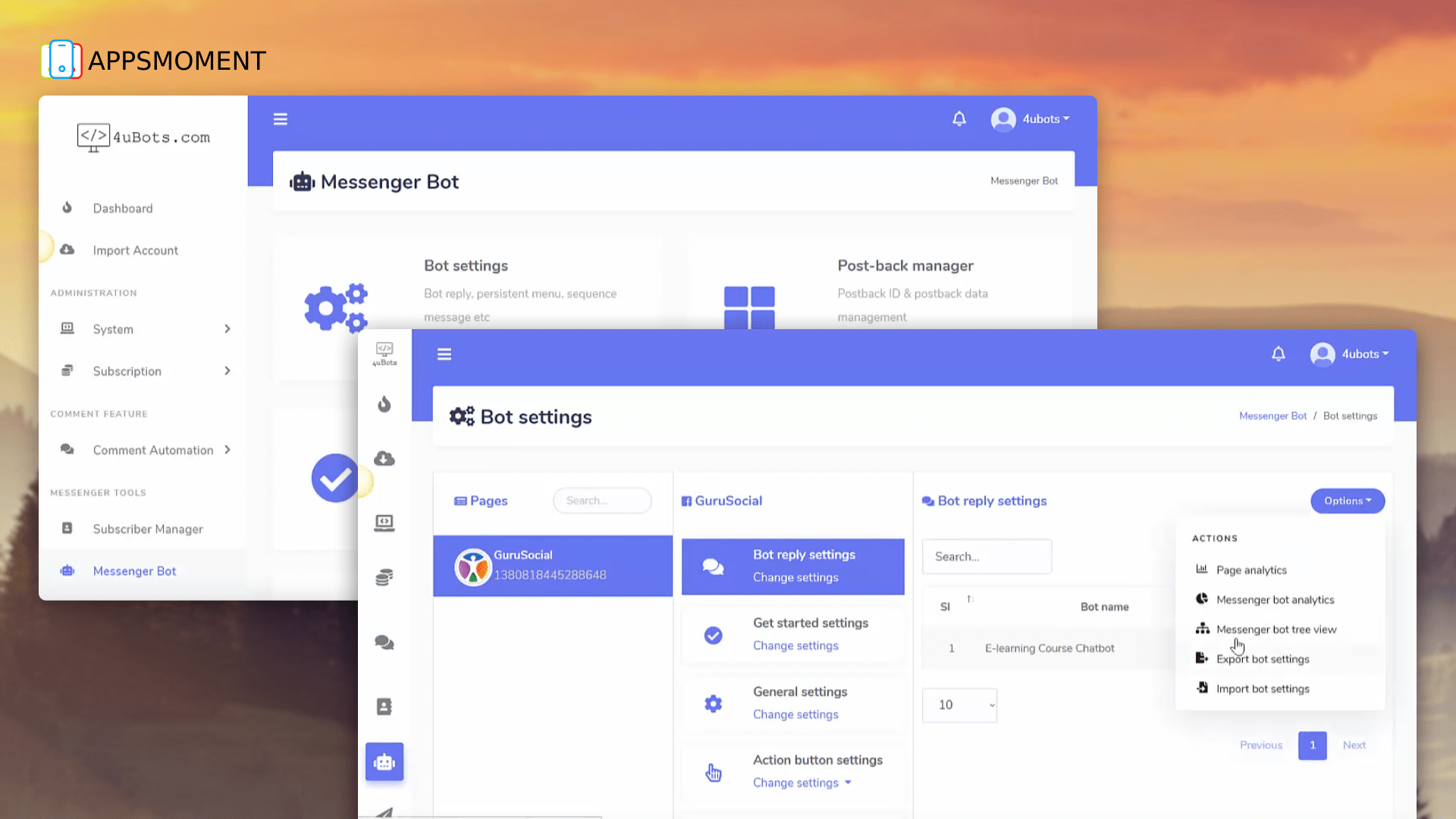 AppsMoment is a Ukrainian app building platform with a standard drag-and-drop interface. It allows creating one free app. The creators provide ready-made templates to use and more than 150 features. It is possible to develop games using the platform with over 100 game templates.
This platform offers quite various app features, such as QR codes, push notifications, monetization from ads, and others.
Siberian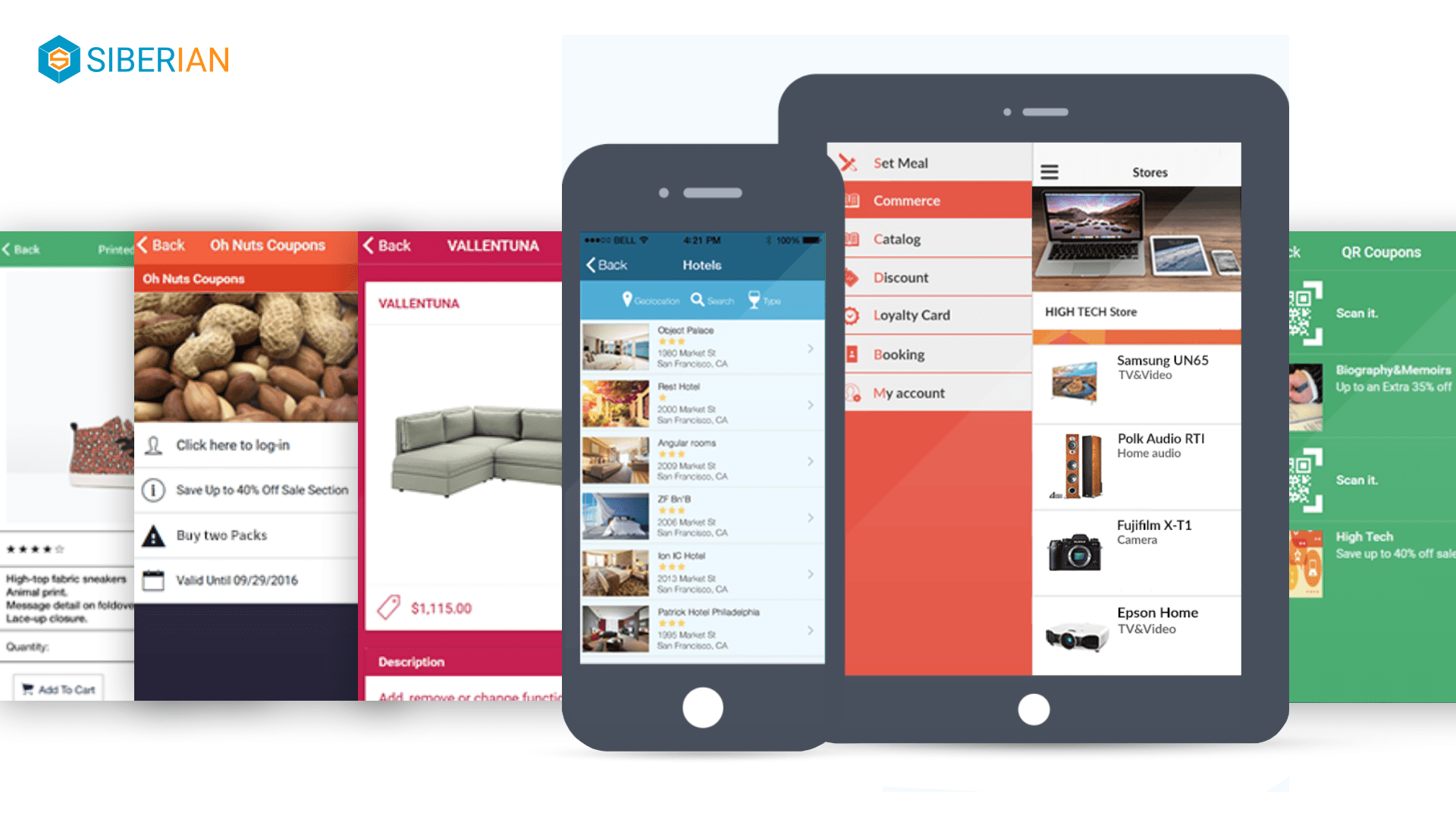 Siberian is a French open-source app builder. It offers one app for free. It is a drag-and-drop platform that provides some customizable templates. You have to download and install the builder on your device to start creating your own app. It is the main downside: not everyone is tech-savvy enough to get through the process as you have to know how Web hosting works. Still, there are tutorials available, as well as online support.
Siberian is targeted at small businesses, and their templates and features reflect it: you can add bookings, calendar, payments, forms, and many other options. The platform lets the user keep the app's entire source code, meaning total ownership over it.
Is free always good?
We already mentioned that the main advantage of the listed apps is the fact that they are free. But does it mean that you can get a quality product without investing a single dollar? Unfortunately, no.
First of all, you can have a fully ready app, but it is not possible to simply add it to any app store with one click. It is essential to remember that even with the free app-making tools, you have to pay a fee to Google Play or Apple App Store to get your app listed. You have to pay a one-time fee of $25 to become Google Publisher and a $99 fee for an annual Apple Developer account. Secondly, you should be ready to read all the guidelines to make your app suitable for publishing. Both Google Play and the App Store have a list of requirements the app has to follow. Publishing an app might be more challenging than making it.
Secondly, most of the free app building platforms offer apps with rather limited functionality. Often, there are download or storage use limits. There is a certain number of possible designs and functions, and you can't step above them. Not all your creative ideas can be fulfilled with such websites' help – they offer a compromise between your needs and their capacities.
Finally, quality is the biggest question. You are the only person to create, test, and launch the app. The app looks good, but most often, one can tell that it is not a custom product. Template-made apps can be beneficial for small enterprises and initiatives, but they can make your brand look less reliable. What is more, there might be many app functionality issues, which can result in you spending more and more time making the app work properly.
Should you use such platforms?
Creating an app has become manageable, even for those who have never coded in their lives. You don't have to hire a highly qualified specialist to get an app for your small business or new idea. But what do we end up with: are template-made apps the same quality as custom-made ones?
The answer is, of course, no. Sure, such platforms are useful options and can definitely help those who are only starting out and don't have a budget or time to spend on application development. These platforms might be convenient for small businesses, such as local shops, cafés, B&Bs, beauty salons, etc. Individual experts, like personal trainers or tutors, might use no-code app building websites to promote their services on the local level. More and more people are now creating apps for their events, for example, weddings, to provide guests with all the necessary information. App-builders are a good pick for those instances.
Get your app developed by professionals
If we are talking about a bigger business that enters a highly competitive market or tries reaching customers outside their small community, app-builders might not be the best choice. It is a perfect temporary measure to see if the app is needed and how people interact with it. After some time, you can invest in a more professional-looking and better functioning app. Constructor-like software provides constructor-like solutions, meaning that your customers can tell that the app is not custom-made. Apps created using app-building platforms often have issues with properly supporting such features as push notifications or sensors. They tend to be quite simple and any deviation from the template might cause problems. It is crucial to look professional if you want your customers to trust you: details form the brand image.
In this case, it makes sense to hire a professional team to develop a mobile application. With no design or functionality limitations, you can get an app that will serve your business purposes. At Redwerk, our app development team will be happy to assist you in creating your perfect app!
See how we developed and maintained mobile solution for tutors