We Understand
that no one wants to start a software customization or IT project development outsourcing facing a lot of unknowns or unspecified cost projections. Redwerk provides fixed project quotes for any type of software development assignment
How To Start Your IT Project Outsourcing

We would recommend starting with putting down a list of requirements for your IT outsourcing projects. This can be a list of use-cases or user stories. It can also be a textual description of the solution that needs to be developed. Ideally you provide us with a full technical task description document covering every detail of the product to be developed.

If you have some software development projects for outsourcing, send your specification over to us. Our team of developers will thoroughly analyze it do additional discovery: ask you questions and propose behaviours.
How We Estimate
Once clarity has been achieved in the initial requirements, we will provide you with a time estimation for the project, usually in a form of an Excel sheet, where your software project is broken down into subtasks. Each subtask is assigned three figures: optimistic, realistic and pessimistic. We use the realistic figure for billing, multiplying it by our hourly rate. Unlike other IT projects outsourcing companies, with us the result is the fixed price you're going to pay to have the project developed no matter what.
Unless there are changes to the scope, we stick to this price and it never suffers a change. There are no strings attached and no hidden charges, just the time estimation.
Here is an example of how it looks like: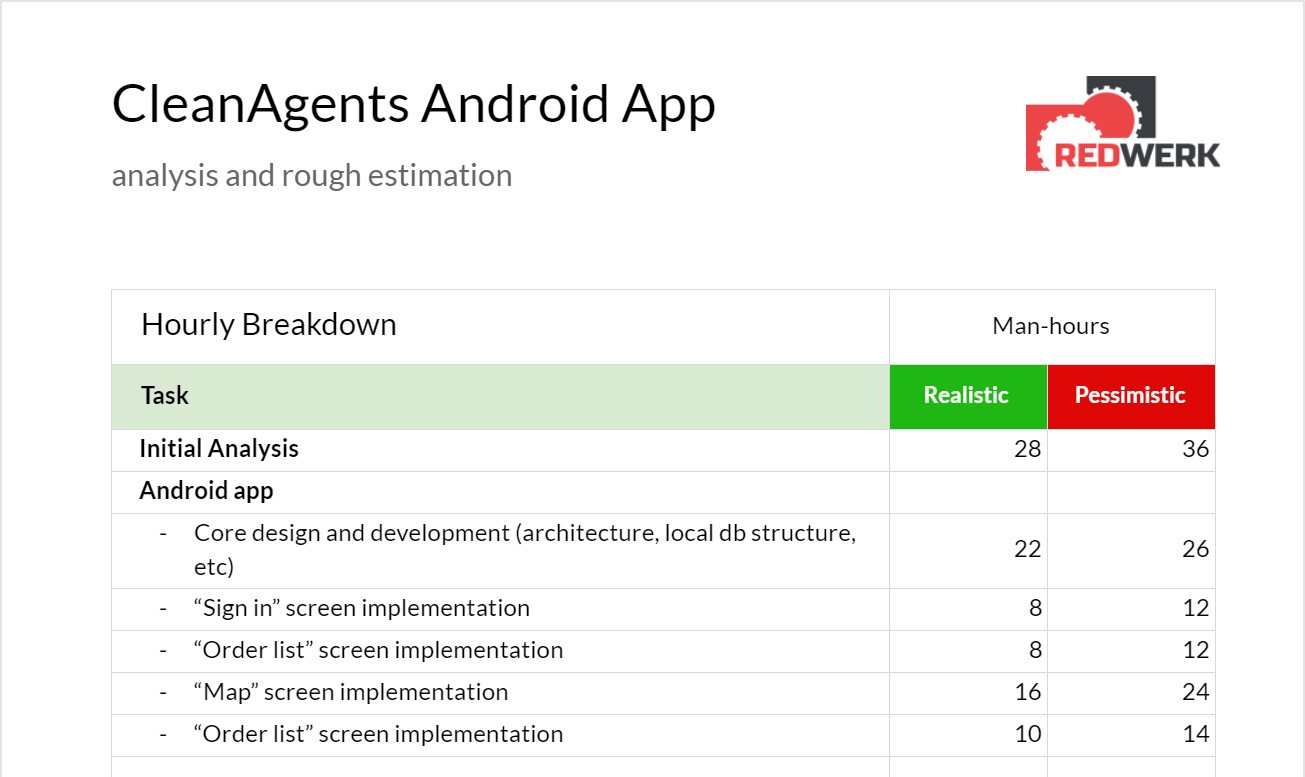 Custom Ruby on Rails App Development Case Study
Redwerk was contracted by the innovative Berlin-based startup called Cleanagents to develop an app that would allow cleaners to preview and accept jobs directly from their Android phones. After downloading the app (sign-in was required), the app had to be designed to push new notifications to users whenever new jobs became available in the area near the agent. Agents had to be given the opportunity to preview jobs and accept them. The job`s location had to be shown on a map, giving the user also the chance to display routing options to get there as quickly as possible.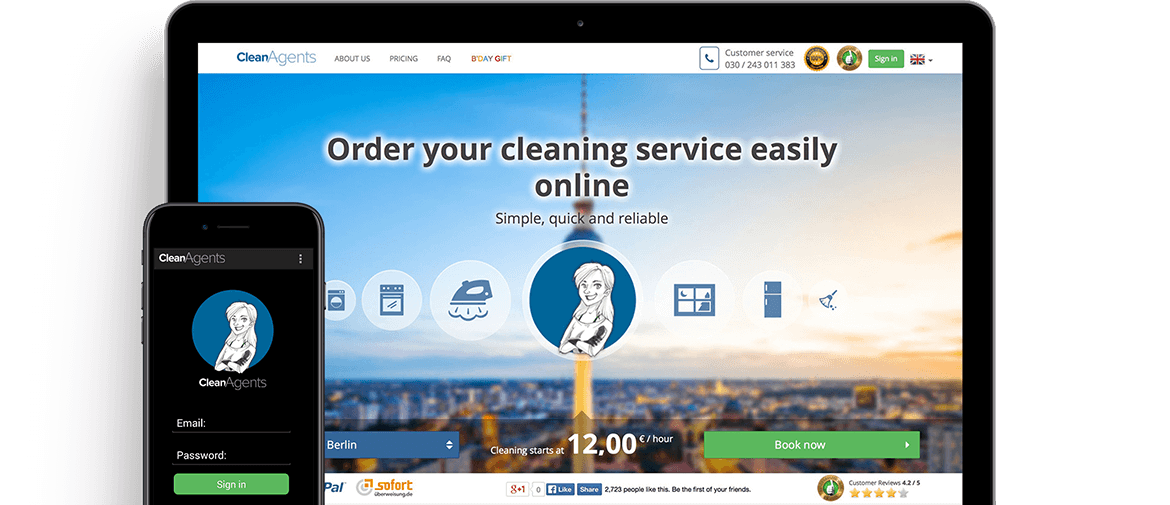 How We Plan And Execute

Once we have agreed upon the project budget, we start allocating resources, planning the efforts and report you the final deadline. The result is a Gantt chart that looks like this:

Now we're all set and ready to work toward the deadline and on the agreed budget. During development, normally you get access to our test server where you can see your product being developed.
I worked with Redwerk while at a previous company. When a project popped up while at Universal Music Group, I immediately reached out to Redwerk. I knew that they had the skill set as well as the proper management to get the project delivered on time, on task and on budget. Even when the project scope needed to shift, they made sure to deliver exactly what I needed. I definitely recommend them for any of your development needs.

Redwerk is a strong development organisation. I worked with their developers and PMs at Worldnow and Justin Alexander, Inc. on a variety of projects from video architecture and encoding to basic HTML and can say that both teams were pleased with their work. Redwerk communicates clearly and they do a nice job at managing expectations, which is important because they are an overseas shop. I will work with them again.

We selected RedWerk for their dedication and professionalism designing and developing SystemDataRecorder performance monitoring system for Windows platforms. Long hours testing and ensuring the software works without problems makes RedWerk a solid and mature partner for software development.
Why Us
Fast Ramp-Up
When you outsource your software projects to us, we can start working on your project in no time, due to our available resources pool.
Perfect Process
Since the moment our company was founded back in 2005 we stepped on every rake in the garden. As a result, we now have a solid bulletproof software development process that guarantees quality and timely results for our clients.
Maximum Agility
In the fast changing business world, it's very important to always be ahead of the competition. We can scope out and quickly deliver an MVP (minimum viable prototype) for your idea and, once everything is fine, a full-scale product.
Business Analysis
We know exactly how to deal with non-technical customers. We have a bunch of startups on our portfolio that never had a single technical person on their team, with all the software development done exclusively by us. We make sure we understand your business.
Working Hours & Time Zones
Depending on where you are, we can adjust our working hours to make sure there is an overlap with your specific timezone.
Price Advantage
Outsourcing to Eastern Europe saves your money. Our rates are at least 25% less expensive than some other IT outsourcing locations.
Intellectual Property Rights
All rights on the software developed by our developers belong to the client 100%.
Legal Protection
Non-disclosure Agreement to restrict access to confidential information to third parties. Confidentiality and Non-competition for each party to agree to threat the other party's information as strictly confidential.
Management And Communication
When you outsource your project with Redwerk, communication is built the way that suits you best. There will be a business analyst taking care of your account at no additional cost. Our excellent English skills facilitate easy interaction.
Fixed Quote IT Projects We Have Done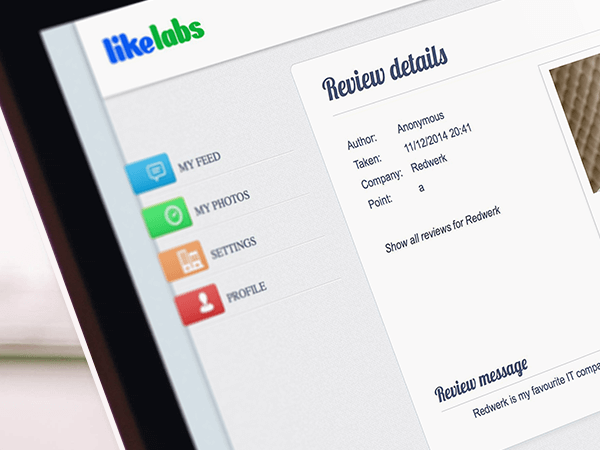 iPad app that allows visitors in a public place to create and share a review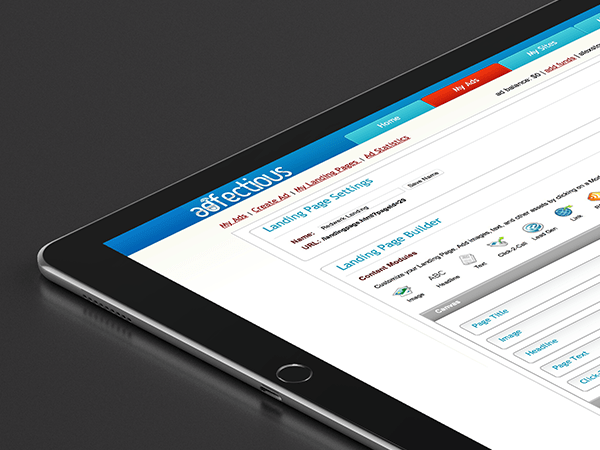 Mobile advertising system with advanced targeting and statistics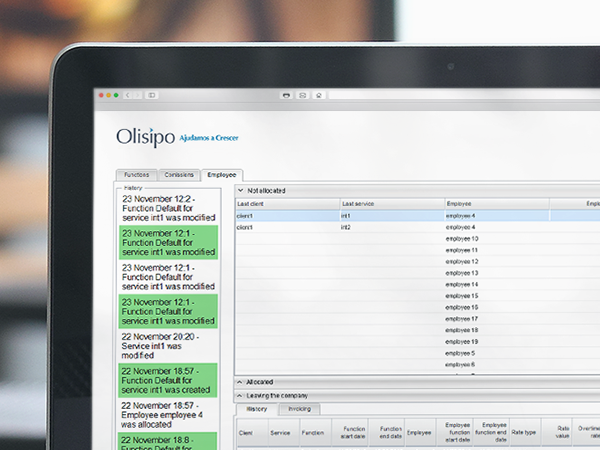 Advanced web-based ERP system for IT company
65%
customers ordered more than one project
48%
chose to have a dedicated team after a pilot project