In 2015, Recruit Media reached out to us with an idea of an innovative recruiting platform, and we had brought this idea to life from scratch, completing the entire product development cycle.
In October 2021, the project reached a new stage of its evolution — Recruit Media was acquired by HireQuest, a successful staffing franchiser working across 35 states in the USA.
In this article, we'll cover:
Recruit Media Purchased by HireQuest
HireQuest announced the acquisition of Recruit Media on October 4, 2021, in its official press release. If we revisit the company's history, we'll see that smart merges and timely acquisitions are part of its growth strategy.
What is Recruit Media?
Recruit Media is a US-based tech company that has reimagined the way recruiters and job seekers can interact with each other. Its SaaS recruitment platform contains the essentials we all are used to, like keyword search and several unique features, like a video resume builder with a built-in teleprompter.
While traditional resumes do not yet belong in the past, there are so many other innovative and more creative ways to present one's skill sets, expertise, and overall energy vibe. And Recruitment Media has made it possible with its next-gen multi-platform solution and simple, yet so relatable vision – "You are more than a resume!"
What is HireQuest?
HireQuest is a leading franchiser of staffing services, boasting 30-plus-year expertise and over 200 staffing offices across the USA. The industry giant provides temporary, permanent, and direct-hire staffing, creating about 60K employment opportunities annually. It caters to an impressive range of industries and niches: whether you need a personal assistant, an accountant, a healthcare worker, or a demolition specialist, HireQuest has got you covered.
HireQuest is part of a large family of companies including HireQuest Direct, Snelling, and LINK Staffing.
Why HireQuest Purchased Recruit Media?
The acquisition of Recruit Media allows HireQuest to outrun competition by increasing the quality of its services via innovative software. With features like in-app messaging, advanced search, and rich media tools, HireQuest will be able to make recruiting more transparent and eliminate that friction point inevitable in the hiring process.
Another solid reason that prompted HireQuest to acquire Recruit Media is the opportunity to speed up their development. Turns out, many of the Recruit SaaS features have long been on the HireQuest roadmap and would require several more years to get implemented.
"Technology increasingly influences all aspects of our business and with the acquisition of Recruit Media we enable our franchisees, employees, and clients to interact with one another more efficiently. We're very excited about the opportunities this creates for our franchisees today and the opportunities it opens up for us in the future,"
Whether integrated into the existing HireQuest software and day-to-day operations of its franchisees, employees, and clients or further developed as a stand-alone business, the Recruit Media platform brings tangible benefits to the table, such as:
Distinct differentiation from the competition
Accelerated and more robust software development
Improved communication for all stakeholders
Solution from Zero to Launch
Recruit Media turned to Redwerk with a brilliant idea of a recruitment platform that gives both recruiters and job seekers enough space to present their expertise, work ethic, achievements, company values, perks, corporate or personal lifestyle without diminishing all that to a single resume or job description. They needed a reliable tech partner who had the expertise and courage to deliver a nifty solution and share the responsibility for any mishaps or obstacles along the way.
We moved feature by feature until we developed a fully-fledged recruitment platform that leverages innovative thinking and the latest tech advancements to turn hiring into a smart, meaningful, and frustration-free process.
From a global perspective, our major task was to build a recruitment solution that would stand out amongst similar platforms. To achieve that, we needed to carefully think through the platform's architecture to seamlessly integrate all the cool features on our roadmap.
Let's have a closer look at some of the most significant aspects of Recruit Media SaaS.
Multiplatform
The beauty of modern SaaS products is that they are accessible anytime, anywhere. The same goes for the Recruit Media app. With native iOS and Android apps, recruiters can stay in touch with candidates and vice versa literally on the go. At Redwerk, we advocate for native mobile development as it's more beneficial in terms of performance, user experience, and scalability than cross-platform apps.
Those users who prefer to do all their work on a laptop are also heard and understood. With the Recruit Media web app, they can easily access the platform provided the Internet connection is there.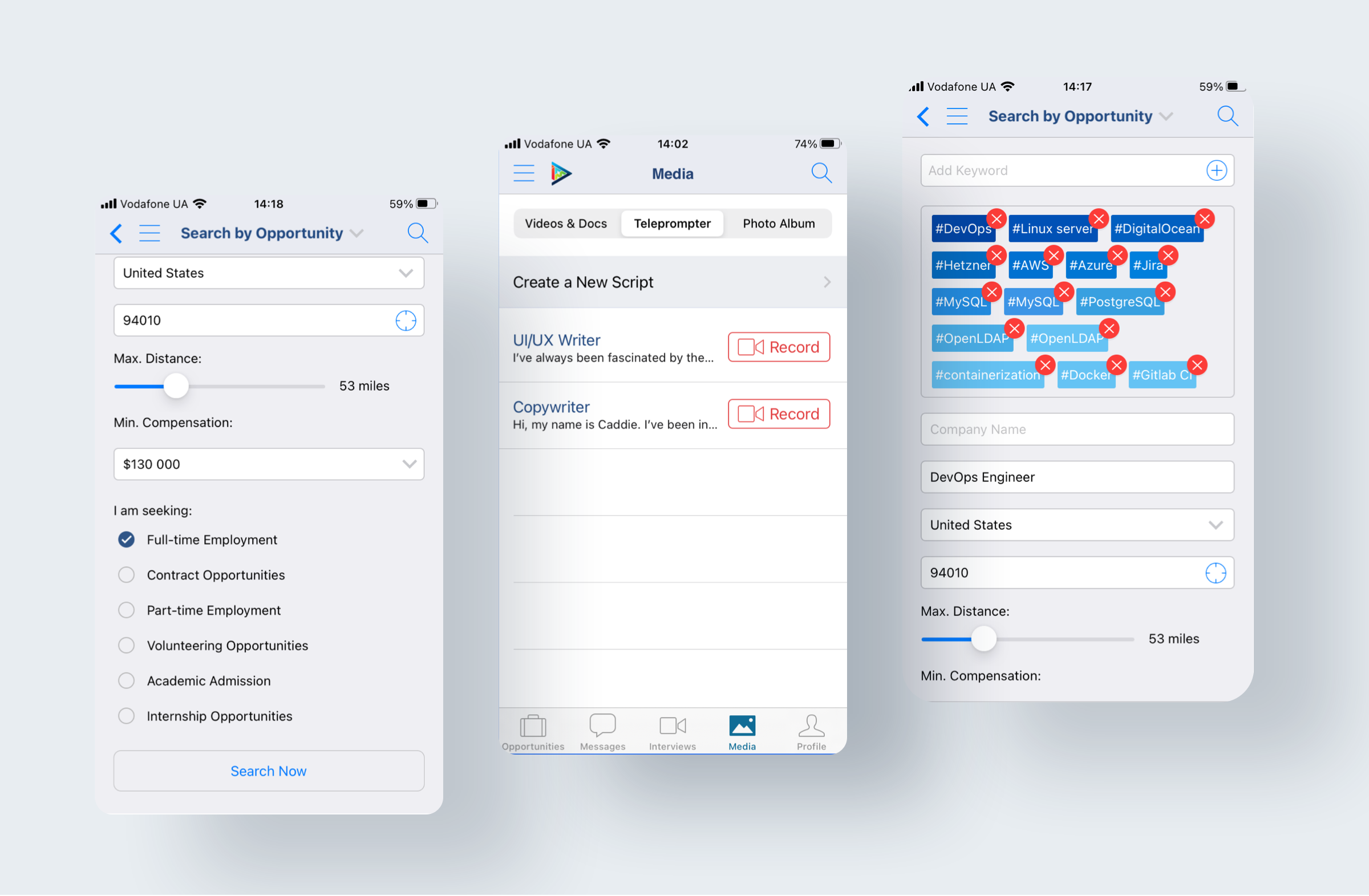 Unique
When we started developing the platform together with Recruit Media, we didn't have a look-alike to follow. We wanted to build something new, something that would be equally useful for recruiters and applicants. Implementing advanced search functions and a media module were our primary focus areas and our major point of difference.
Speaking of unique features, here is a brief overview.
Video Resume Builder with Teleprompter. Each user profile has a media block, so it is clear from the first glance if the user has a video resume/vacancy or not. The novelty of this feature lies in the teleprompter; that is, you don't have to memorize your script. Instead, you can use a template or create your custom script right in the app and then use it while recording the video.
The script will be scrolling at the top of your screen, serving as a guide for what to say next. More so, users can adjust the teleprompter font type and speed to match their natural tempo and make the shooting process smooth and stress-free. The teleprompter technology is patented by Recruit Media, a solid testimony to the product's uniqueness.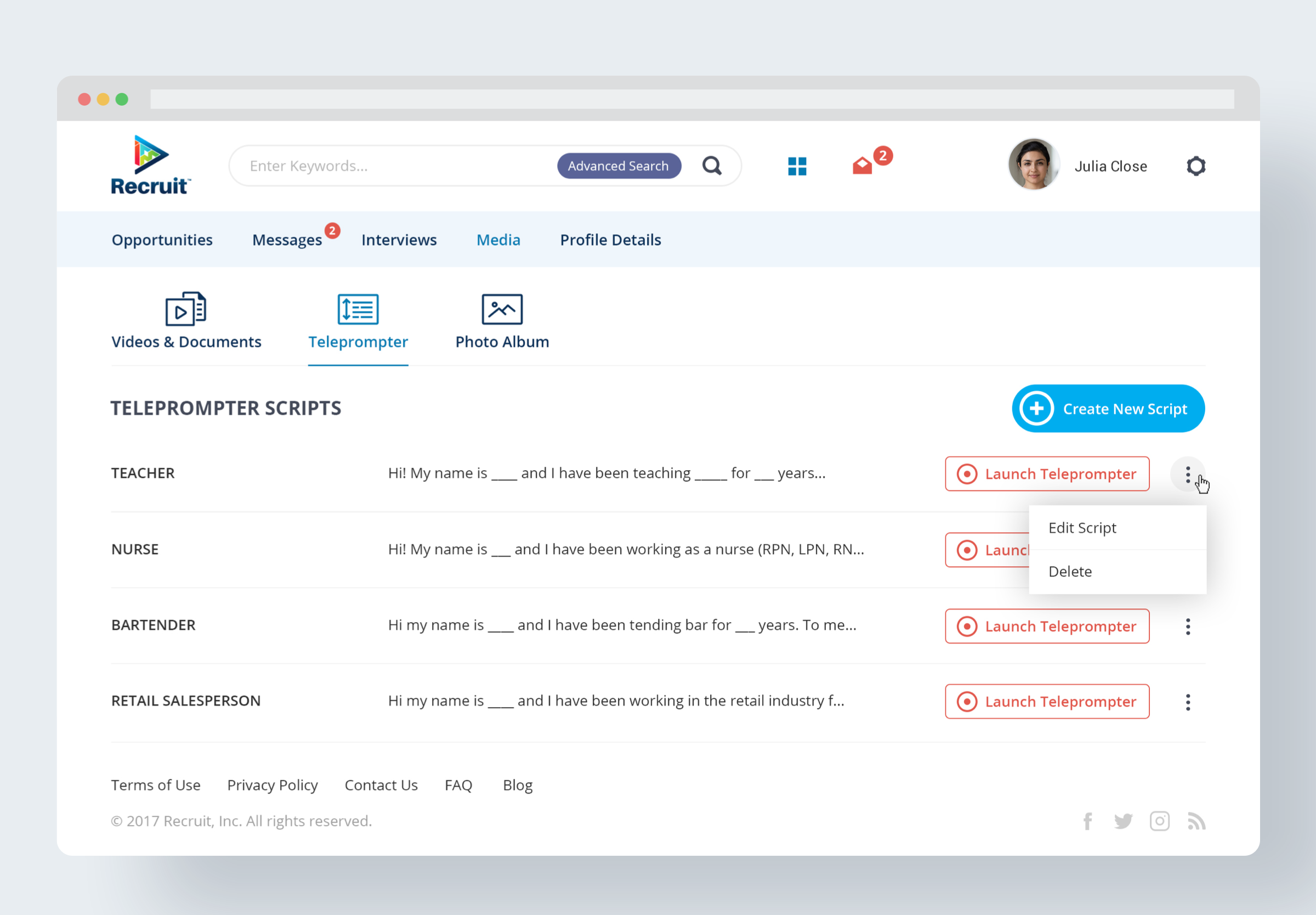 Advanced Search. When it comes to recruitment platforms, the search function is undeniably one of the most crucial ones. So it is only natural that we put some serious effort to make it comprehensive and precise and at the same time not overwhelming.
The app allows searching by opportunity and company, review saved searches, and restore most recent searches. While searching, one can play with a range of useful parameters – keywords, job title, company name, country, ZIP code and associated proximity, compensation, as well as the type of employment, including volunteering, academic admission, and internship opportunities. The search module is available both for recruiters and job seekers.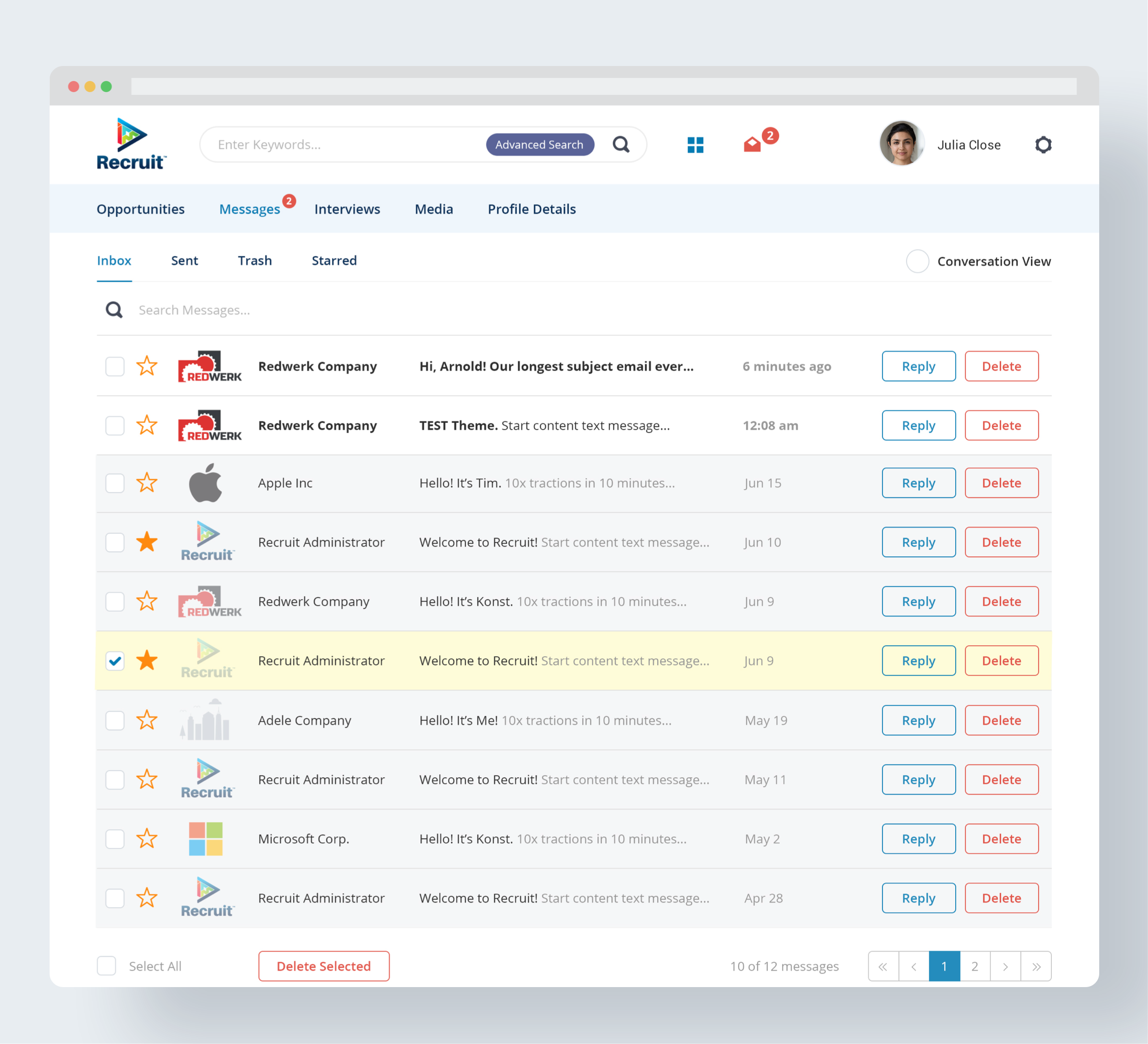 Intelligent Keyword Assignment. Nowadays, it is difficult to imagine an innovative solution that has no AI-driven features behind it. The Recruit app does not lag – it leverages machine learning to ensure intelligent keyword assignment. In simple terms, keywords get auto-assigned based on the neural network analysis of countless CVs and vacancies. To make sure the neural network lives up to the expectations, we trained it on over 1,5 mln CV and job description texts.
Privacy-Friendly
One surefire way to increase your privacy is to limit the number of apps as each of them requires certain personal information or access to camera, microphone, storage, or location to properly function and provide relevant suggestions. Wouldn't it be great to have a single app that does it all? The phenomenon of all-in-one apps is by no means new. Moreover, most of such apps are packed full with 3rd party integrations, leaking your data to other vendors. With Recruit Media SaaS, you don't need any additional tools to get the job done from start to finish.
In-app messaging and video communication are also quite handy for privacy – no need to share your phone number, email, or Skype nickname.
Another privacy-related feature we implemented is the option to hide your CV from selected companies. The most common use case would be an employee willing to search for new job opportunities with the current employer knowing nothing about it.
Convenient
Building a product from the ground up is a tremendous responsibility that requires profound expertise on all levels, usability included. Therefore, convenience was something our Redwerk team prioritized right from the ideation stage.
Having the opportunity to keep all project-related essentials in one place without logging in to multiple apps is one of the most common feature requests, regardless of the software type used. And Recruit Media accommodates that need. Everything is neatly categorized and easily accessible thanks to straightforward navigation.
For example, the Interviews screen displays a list of all interviews grouped under Confirmed, Unconfirmed, Declined, and Completed tabs, which immediately brings clarity and order into the hiring process. More so, the calendar view of interviews is also there, one tap away.
Another instance of a meticulous and thought-through design is the ability to record a video resume right from the Teleprompter Script screen. Suppose you've decided on what position you would like to create a video resume for. First thing you do is, of course, work on the text, on what you'll be saying. Once you save your script, you'll see a button to record a video using the prompt you've just created. The footage is auto-saved in the app Media gallery and can be added to the user's portfolio. As you see, each step is logical and the entire video resume can be built within two screens – no need to constantly switch between multiple tabs.
Self-Regulated
Any app that deals with media files uploaded by users encounters the dilemma of regulating that process and filtering offensive or inappropriate content. Recruit Media SaaS is no exception; it needed a solution to automatically reduce administrative support to the bare minimum.
As an official Microsoft Partner, Redwerk possesses the expertise in leveraging the Microsoft Azure ecosystem to its fullest extent. To ensure the Recruit Media platform is self-regulated, we utilized the capabilities of Azure Cognitive Services. Its Content Moderator feature perfectly covers our needs as it provides effective mechanisms to detect unwanted content and supports multiple formats – text, image, and video. This AI technology also allows human intervention for peculiar use cases.
Corsis-Approved Software Quality
Let's get back to the acquisition part. Sealing a seven-figure deal is not a matter of a successful pitch. It is a long journey full of hard work and dedication, and it is crucial that the right people accompany you along the way. In the case of Recruit Media, Redwerk was the loyal companion responsible for the technical realization of the project.
When it comes to tech startups, high software quality is an indispensable prerequisite for a positive outcome. Therefore, before initiating the acquisition process, HireQuest turned to Crosslake, a reputable software assessment agency, to validate the quality of our code, the development practices we used, and our internal processes in general.
The Redwerk delivery team went through a rigorous evaluation process that included six meetings with the Crosslake representatives, about two hours each. The purpose of these meetings consisted in confirming our adherence to the latest development and security practices. We were asked all sorts of questions, from justifying the choice of languages and frameworks used, describing the app's architecture and our QA & code review processes to talking about code modularity and maintainability, interoperability and APIs, and in-house & remote security controls we follow to guarantee our clients' safety.
Running the app's source code through Corsis, a leading proprietary assessment software, concluded Crosslake's quality checkup. The software we built for Recruit Media received a high-quality score, proving that our solution is worth the investment. All in all, Crosslake recognized our software development expertise and commended our internal workflows.
Needless to say that this evaluation played a significant role in HireQuest's decision to purchase Recruit Media.
Utmost Engagement & Support
"Do your job well every day and the results will exceed expectations in the long run,"
A senior software developer turned entrepreneur, Konstantin never stopped thinking like an engineer. He uses his technical background and product development expertise to point our clients in the right direction.
While Konstantin has long delegated much of the project management routine, he stays engaged and keeps an eye on each project, making sure everything goes as planned, and if not, the issue is quickly remedied. Our clients often invite Konstantin for some quality brain-picking, and that's exactly what Recruit did. They needed his expertise to get things right from the very start, and that's how our CEO spent three days in the Microsoft office in New York.
Konstantin is no stranger to traveling, whether for business or pleasure, so he flew to the United States to meet Recruit Media founders in person – Ira Bell and Jeff Nussbaum. All this time was devoted to devising the app business logic, brainstorming, debating, drawing countless flow diagrams on the whiteboard to lay a solid foundation for the future product.
We know for sure – this new chapter of Recruit Media's evolution wouldn't be possible without Ira's visionary outlook and unconditional commitment of all stakeholders. It was an immense pleasure working alongside the team of big dreamers and passionate doers.
"We began this journey with the hope and dream that candidates would be able to show the world that they were more than a resume, through the use of multimedia and more. People should use Recruit to connect for opportunities. A candidate's profile should be a working, living document that they nurture and grow over time – choosing to share it with the world whenever they like,"
Summing Up
We are immensely proud that our expertise helped one more tech startup to gain the recognition they deserve. The success of Recruit Media proves the old truth: Great things in business are never done alone; they're done by a team of people, the right team.
Our journey doesn't end here as we'll continue working on the project together with the HireQuest team, and we are thrilled at the thought of new challenges to overcome.
If you'd like to learn more about our contribution to the Recruit Media project, be sure to request a case study or contact us for a free consultation to explore our services further.
See how we helped Recruit Media develop pioneering recruitment SaaS acquired by NasDaq-listed company with 250+ mln market cap