As the line in roles gets blurred in the modern workforce, it is difficult to say with certainty what a vacancy entails.
Nowadays, job descriptions vary in specific companies: what a project manager performs for one organization may be completely different from a job description at another company. Similarly, business analysts often morph into PMs, depending on company and project size.
Both project managers and business analysts play a crucial role throughout the entire software development lifecycle as their major aim is to deliver the product that matches the stakeholders' and end-users' expectations.
While these positions intersect in many aspects and may be performed by the same person, they are not interchangeable and require specific skill sets. Generally speaking, the larger the company is, the higher the chance of having a distinct line between these roles. At the same time, IT services agencies like Redwerk find it more reasonable to hire experts who are skilled both in project management and business analysis as it speeds up communication with clients to a great extent.
In this article, we'll cover:
Who Is a Project Manager?
A project manager (PM) is a specialist who is responsible for overseeing the project development from start to finish. They gather the stakeholder requirements to define the project scope, outline the deliverables, and reduce each objective to a set of specific tasks. PMs are also responsible for allocating resources, managing team workload, and staying on schedule.
Apart from closely monitoring the project's progress and taking proactive actions to mitigate potential risks and losses, PMs are expected to be good leaders. They ensure each team member stays engaged, shares the same vision, and has no obstacles in doing his or her job.
Project Manager Skills
It's no rocket science that the success of a particular project is directly dependent on the skills, accumulated experience, and personality traits of the project manager in charge.
We've done independent research and utilized our insider knowledge to clearly define the qualities turning project managers into real-life superheroes capable of resolving the most complicated of issues.
While project managers are not involved in any coding activities and can enter the industry without a degree in Computer Science or Application Development, a technical background would help them feel more confident in their decision-making and communication with engineers and other technical specialists.
Professional project managers are expected to possess the technical know-how of the following:
Specialized project management software, such as Jira, Asana, Microsoft Project, etc
Software development methodologies: Agile (Kanban, Scrum), Waterfall, DevOps, RAD
Software development life cycle (SDLC) management
Writing technical documentation
Well-developed managerial skills are pivotal to the success of a person in the project management role. They are at the heart of everything PMs do daily and therefore require sheer excellence.
Here are the managerial essentials every PM needs to continuously hone to stay at the top of their game:
Organizational skills
Resource planning
Time management & scheduling
Communication & negotiation skills
Troubleshooting
Reporting & presentation skills
Leadership
Team building
We do business with the people we like; there's no denying it. No matter how skilled a person may be, if their personality is unappealing, they'll have trouble cooperating with the rest of the team, leave alone inspiring them to achieve the set goals.
Apart from being sociable, a project manager would greatly benefit from having the following personality traits:
Resilience
Ability to work under pressure
Confidence
Trainability
Inclusive mindset
Project Manager Responsibilities
PM tasks vary depending on where they're at in the project management life cycle. For example, at the initiation stage, PMs are primarily busy with defining the project objectives, estimating the project scope and complexity, and outlining deliverables. In contrast, the closure stage involves a lot of performance analysis, documentation, and accounting tasks.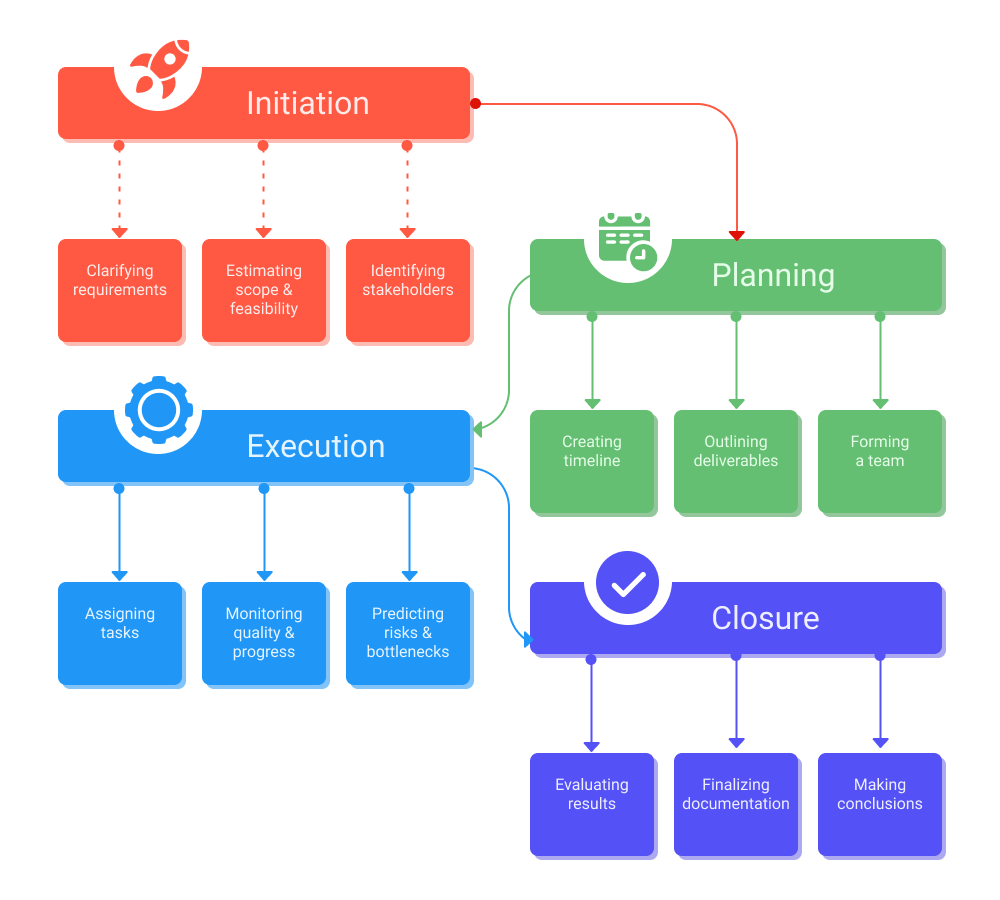 All in all, a PM's role revolves around driving a project to an expected outcome. Here are some of the specific functions they perform:
Gather project requirements and set clear-cut project goals
Estimate project scope, duration, and cost
Handpick tech experts to form a strong delivery team
Reduce deliverables to specific tasks
Match tasks with tech experts' skills
Monitor team workload and take measures to balance it out
Track individual and overall progress
Evaluate potential project risk factors and bottlenecks
Prevent and resolve interdepartmental and interpersonal conflicts related to the project
Manage communications with C-suite executives and stakeholders
"Project management is like walking on a blade. You must always maintain a balance between the interests of the stakeholders and the capabilities of the team,"
"PM is a person who determines the project's direction and goals, monitors the allocation of the necessary resources, spots emerging problems, discusses them promptly, and suggests solutions. Without such a person, the project will not be manageable, and there is a high risk of misunderstandings within the team, between the team and the client, downtime, and overlaps,"
PM Software & Tools
We've already talked here about the tools project managers at Redwerk love and rely on every day. However, the project management software market is immensely diverse and growing exponentially: worth about $5 bln in 2020, it is projected to reach a staggering $10 bln in 2026. So we thought why not feature other products we find highly valuable and that might be a better fit for some companies.
While picking the tools, we were guided by PM everyday tasks, focusing primarily on issue tracking, data management, time & productivity management, documentation, and, of course, communication. Here we go!
is a simple ticketing system for customer relations management. The platform offers intuitive filtering options and easy collaboration across departments, along with creating automated workflows. HelpDesk brings all the vital data to one place – from incoming emails and web form requests to other communication channels.
For IT agencies providing tech support, HelpDesk offers a unique package designed to make IT help desk teams more efficient. Being a SaaS product, HelpDesk requires only a five-minute setup, and its pricing plans start as low as $4 per Basic user annually.
Trial: 14 days of free use

is a project & code management platform designed for software development, sales, marketing, and small business teams. It offers everything a good issue tracker can boast – from tracking project progress with Kanban-style boards and Gantt charts to role-based access and version control features.
Backlog offers another considerable benefit: smooth data import from other issue trackers like Jira and Redmine and converting emails and Google spreadsheets into tickets. Backlog is also mobile-friendly, so PMs can manage urgent issues on the go. As for pricing, Backlog offers 4 packages, starting at $35 per 30 Starter users monthly.
Trial: 30 days of free use
is a work management platform built for agile development teams, be it an IT services agency or a large product company. This software is highly customizable as users can arrange the data display across dashboards, spaces, folders, and projects the way it works for them best. What's unique about Wrike is that it places a lot of emphasis on capacity planning to prevent burnout and manage individual workloads easily.
Automated workflows, dynamic reports, streamlined sign-off process, 400+ integrations, and plenty of other collaboration-first features – the gains of using Wrike are apparent. Wrike offers 4 pricing tiers starting at $9.80 per Professional user monthly, and special packages for marketing and service delivery teams.
Trial: Freemium plan
is a work management platform catering to individual and business needs across verticals – from software delivery, marketing, and sales to education, event planning, and accounting. ClickUp offers over 10 customizable views, including List, Board, Calendar, and Gantt, for PMs to see project progress at a glance. With built-in features like Mind Maps, Docs & Wikis, and Workload charts, PMs won't need a bunch of other tools, staying within one platform and keeping everything neatly organized and connected.
Other prominent features that are not always provided by issue trackers and productivity apps include Multiple Assignees, Assigned Comments, and Relationships. In terms of pricing, ClickUp offers 4 plans with the cheapest at $5 per Unlimited member monthly.
Trial: Freemium plan

is a project management platform designed with diversity in mind. Hive founders know that we all learn and perceive information differently; therefore, each user can choose the view they feel most comfortable with – be it Calendar, Gantt Chart, or Kanban Board. Apart from must-haves we all expect from work management apps, such as an instant view of all the assigned tasks, project permissions, and time tracking, Hive offers several unique features.
For example, with Focus Mode, you can mute all notifications in one click to give your undivided attention to the most critical of tasks and get the job done with zero distractions. Another handy functionality is Forms, which are extremely helpful in collecting and structuring information quickly. Hive offers 2 pricing plans and discounts for nonprofits and charges $12 per Base user monthly.
Trial: 14 days of free use
While we can't feature all of the project management tools, we've listed several more products in case you want to explore the market further.
| | | | | | | | | | |
| --- | --- | --- | --- | --- | --- | --- | --- | --- | --- |
| PM Tools | Multiple Views | Drag & Drop Builder | Task Dependencies | Native Time Tracking | Instant Messages | Integrations | Mobile- friendly | Freemium | Basic Pricing |
| | | | | | | 5 | | | $19.90 per user monthly |
| | | | | | | 70+ | | | $99 per unlimited users monthly |
| | | | | | | 100+ | | | $10 per user monthly |
| | | | | | | 70+ | | | $7 per user monthly |
| | | | | | | 1500+ | | | 9,00 € per user monthly |
The number of instant messengers and video conferencing tools for corporate communication has also skyrocketed over the years, so Slack and Zoom are no longer the only reasonable choices.
Let's take a closer look at alternatives!
Team Communication
Target Audience
File Upload: Free / Paid
Video Participants
Voice Messages
Self-Destructing Messages
Deployment
Freemium
Basic Pricing
Gamers Techies Creatives
8MB /100MB
25
Web
macOS
Windows
Linux
iOS
Android
$9.99 per user
Marketing
Education
IT
20GB per team / 20GB per member
30
Web
macOS
Windows
Linux
iOS
Android
$3 per user monthly
Government Healthcare FinTech
25MB / 100 MB
50
Web
macOS
Windows
Linux
iOS
Android
$7.65 per user monthly
Engineering Sales Marketing
5GB per team / 20GB per member
20
Web
macOS
Windows
Linux
iOS
Android
$4.50 per user monthly
Education Defence Governmen
50MB / 50MB
unlimited
Web
macOS
Windows
Linux
iOS
Android
F-Droid
$3 per user monthly
A successful project is hard to imagine without meticulously written and timely updated product documentation. This is where Wiki software comes to the fore, serving as a single source of truth and making the lives of delivery teams a lot easier.
Here is a brief round-up of Confluence alternatives.
Documentation
File Upload
Freemium User Limit
Offline Access
Integrations
Deployment
Self-Hosted
Basic Pricing
50MB
10
5
Web
$8.33 per user monthly
5GB
3
30+
Web
iOS
Android
$10 per user monthly
100MB
10
30+
Web
$6.67 per user monthly
50MB
unlimited
3
Web
macOS
Windows
Linux
iOS
Android
$4.99 per user monthly
100MB
N/A
10+
Web
macOS
Windows
iOS
$25 per user monthly
Who Is a Business Analyst?
A business analyst (BA) helps companies achieve their business goals faster by identifying key product issues, mapping opportunities for growth, and implementing respective solutions.
A business analyst is expected to act as a change agent who performs a comprehensive market investigation, pinpoints product pain points, and offers new development vectors to keep the business profitable for years to come.
Business Analyst Skills
One sound decision – sometimes it's all you need to take your product from average to excellent. And that spot-on decision-making may take years to master. Therefore, having a seasoned BA on the project should not be viewed as a "nice-to-have" but rather a confident "yes, I need that person on my team."
To ensure your project is in the right hands, look for the following skills in BAs you hire.
BAs are people who communicate a lot – with C-level stakeholders, developers, project managers, basically anyone involved in the product development. Among the digital-first businesses, it's very common for founders and CEOs, Redwerk is a good case in point, to have an engineering background. Therefore, being tech-savvy helps BAs easily interact with the tech gurus and better understand the feasibility of the offered solutions.
Experienced BAs are expected to master the following technical essentials:
Knowledge of software development best practices
Understanding computing systems
Database proficiency
Data gathering, processing, and reporting
Financial analysis & forecasting
Market research skills
Building business process models
Business analysts have a whole lot on their plates, so sometimes wearing multiple hats is what they have to do to retrieve that vital information, often changing the course of product development, from all stakeholders.
One of those hats is being a skillful manager, and this is exactly where the line between a PM and BA blurs as the mentioned competencies suit both:
Organizational skills
Communication & negotiation skills
Decision making
Problem solving
Time management
Requirements engineering
Consultative & reporting skills
What sets a brilliant BA apart from an average one is the innate traits that make succeeding in this role much easier. Whether you are naturally gifted or have come a long way to get there, these personal qualities make all the difference:
Natural influencer
Analytical thinker
Crazy about detail and accuracy
Great listener & speaker
Open-minded and forward-looking
Business Analyst Responsibilities
Business analysts are employed across industries; therefore, both their titles and responsibilities may vary. For example, you can come across vacancies like Business Process Analyst, Business System Analyst, IT Business Analyst, or perhaps you'll be called BA but work more as a Functional Architect or UX Analyst.
Setting the variations aside, here is a brief overview of a day in the life of a BA. Primarily, you'll be accountable for:
Analyzing the current business model, identifying problems, and growth opportunities
Evaluating the project's feasibility and market potential
Communicating with C-level stakeholders to validate their wants against real business needs
Deciphering complex business requirements to the delivery team and non-technical stakeholders
Using data modeling to improve decision making
Acting as a change agent to positively impact existing business processes
Designing and implementing new product features / launching new services
Analyzing the impact of newly introduced initiatives & calculating ROI
Estimating costs and devising a business savings plan
Creating functional specifications and maintaining all the technical documentation
"BAs always carry a tremendous responsibility. They are the people who decide if the product matches the real needs of end-users and if there is a demand for such solutions. While working, you change roles all the time – at first, you look at the project through the eyes of a potential consumer, trying to understand what's missing and how to take it up a notch. And in a minute, you wonder whether this new feature will make much of an impact, whether the business can afford to invest in it, and whether the users will appreciate it all,"
"My BA strategy is simple: ask the right questions, get unambiguous answers, critically evaluate the information received, and organize it. No less important is the ability to present the data in a visually appealing and easily digestible form so that the client can understand the message at a glance. Materializing the client product vision into a real-life solution is a highly creative and rewarding process. I get to learn in great detail the various areas of life, the underlying issues, and contribute to solving those problems. I view the main role of a BA as an intermediary between all stakeholders, who identifies, analyzes, and approves project goals and requirements. A seasoned BA also knows how to win the customer's trust,"
BA Software & Tools
While project managers and business analysts share most of the software for issue tracking, data management, and communication, business intelligence tools presuppose narrow expertise and are specifically designed to suit BA needs. We're sure you're well-aware of powerful business analytics platforms like Tableau, Power BI, or TIBCO Spotfire. So we'll have a look at some of their alternatives you may not have heard before.
is AI-driven data analytics software designed for both technical and non-technical professionals across various industries, from Healthcare, Manufacturing, and Retail to Finance, Marketing, and IT. Sisense is tech-agnostic; therefore, it can be embedded in products with any architecture, be it a cloud, on-premise, single- or multi-tenant solution. With Sisense, users can connect to countless sources of data – apps, databases, specific files – anything you'd like to see on your dashboard in real-time.
Sisense pricing is available upon request while the product's demo can be accessed after sharing your business email.
Trial: 14 days of free use
is a business intelligence and analytics platform that can be leveraged by internal teams and embedded as a white-label solution in any product. Its convenience lies in the high customization and intuitive UI. With drag-and-drop functionality and custom filters, users, non-techies included, can effortlessly build custom reports that can be further optimized for mobile, tablet, and desktop screens. Another obvious advantage GoodData offers is flexible deployment options – fully-hosted SaaS, hybrid, or cloud-native deployment.
GoodData pricing is cost-effective as users can configure their plans and pay only for the services they actually need.
Trial: Freemium plan

is a business intelligence SaaS allowing any employee to access actionable insights from a centralized data source. Datapine helps businesses connect to multiple information streams, be it a flat CSV file, a database, marketing analytics, social media, a helpdesk, or a CRM, to bring all the critical numbers to one interactive dashboard. It also offers self-service analytics to help users of every skill visualize their data, gain independence, and boost speed in report-making. Datapine has also created over 80 dashboard templates categorized by industries, department function, and platform.
As for Datapine pricing, 4 packages are available, ranging from €219 to €999 per month for Basic and Branding & Embedded plans, respectively.
Trial: 14 days of free use
PM vs BA: Role Differences
With a clear understanding of the PM and BA roles, you can notice where the differences lie.
BA
Focuses on achieving the business goals
Gathers, creates, and approves project requirements
Ensures each product feature is meaningful and drives real value for the user
Clarifies task feasibility, helps articulate technical requirements, scrutinizes testing checklists for completeness
Runs workshops & training
PM
Focuses on meeting the project objectives
Transforms specs into specific milestones and tasks
Ensures the project remains within the budget and set time frame
Distributes tasks among teammates, monitors progress, resolves conflicts
Helps create education plans for each team member
PM vs BA: Role Similarities
Considering the differences in both roles, it is clear that BAs engage in tasks of corporate and business unit levels while PMs are mostly occupied with the functional level duties.
So why do people have trouble delineating between these roles or find it acceptable for one person to take over responsibilities of both? Well, there're just too many overlapping areas that require the same skill sets. Moreover, some companies strive to achieve zero bureaucracy; therefore, decision-making is way faster and easier when one person is in charge.
Here is where PM and BA roles intersect:
Business analysts and project managers require excellent communication skills to interact and share their ideas with stakeholders and team members.
Both positions require critical thinking and problem-solving skills to discover the most effective solutions and paths to realize the company's goals.
Both roles are focused on the same product. Since most product development cycles involve multiple projects, the PM and BA always end up working together.
PMs and BAs resolve conflicts within the organization — the BA focuses on disagreements about product requirements, while the PM resolves conflicts within their team.
Who Should I Hire for My Team?
Both roles complement each other in large organizations, but they can fall to one individual in smaller companies.
Your decision to hire business analysts or project managers should depend on the project size and the scale of the company.
But let's consider company size first.
The organizational structure in some enterprises does not allow the merger of PM and BA roles. Most large companies use templates and strict job descriptions to avoid overlapping responsibilities. Conversely, a small company or startup might not need to separate the PM and BA roles. Instead, they could hire one person to fulfill both responsibilities.
Nevertheless, even big and highly regulated companies may opt for a PM and BA in one role if the project they handle is relatively small. In other words, everything depends on the size and needs of a specific project.
When Do You Need a BA?
Generally, business analysis is essential to every project. But your company can do without the services of the business analyst when working on small, low-risk projects.
At the same time, if the project is large and resource-intensive, BA is needed to coordinate teams and ensure the product's quality is not being exacerbated by the rush to decrease time to market or desire to cut cost.
More so, if the product has a complex functionality and requires adaptation to changing market conditions, it needs the expertise of a BA who will prepare comprehensive requirements specifications, update them timely, and uphold high-quality standards.
Engaging BAs is also a must for projects that require in-depth budget analysis and potential financial risks.
Similarly, business analysts are needed for projects that will be released in cycles or iterations. Experienced BAs can prioritize the requirements and efficiently allocate resources toward the product's development — and all constituent projects.
When Do You Need a PM?
Now, this is where project size and scope are determining factors. For small (or internal) projects, a PM can easily cover the business analyst's responsibilities. Also, PMs can wear multiple hats when the project is time-sensitive and requires fast-paced decision-making. More so, large-scale projects may need a couple of PMs.
When independent, high-performance teams are working on the project, you need a PM to keep them on the same page. In the same vein, projects that require technical know-how and interdepartmental conflict resolution should have a project manager at the helm.
Most importantly, PMs are essential to projects without any clearly defined end-goal — software development is a never-ending process; you need to continuously maintain, patch, and upgrade to keep it secure and relevant.
Suppose you have a highly technical yet simple project. In this case, a senior developer can handle it; however, they still need basic managerial skills, leave alone the art of communication.
Well, as you see, there is hardly any project that doesn't need a PM.
Final Words
Over the years, the conventional definitions of project manager and business analyst have been slowly blending into one. And as more multi-talented professionals enter the workforce, the lines between these roles will continue to get blurred.
Being an IT services agency with a horizontal structure, minimum bureaucracy, and highly independent teammates, we find combining both roles reasonable and beneficial both for us and our clients. We understand this approach is not for everyone; in the end, it all boils down to your corporate culture, tried-and-true workflows, and project scope.
Check out functional specification Redwerk BAs prepared for an e-procurement platform saving taxpayers millions