The holiday season is wrapping up, and it's time to get back to work feeling rejuvenated and motivated to start another exciting chapter of our lives. As an IT services company, Redwerk knows the importance of keeping our clients well-informed of national holidays. So we decided to share our holiday calendar with the rest of the businesses considering outsourcing to Ukraine, traveling, or establishing their companies here.
Among the public days off are religious, some international, and nation-building holidays. Since the majority of the Ukrainian population are Eastern Orthodox Christians, the dates for such holidays as Christmas and Easter are established by the Julian calendar. Since 2017, Catholic Christmas has also been recognized as a public holiday in Ukraine.
Another fact to remember is that when a public holiday falls on a weekend, the following Monday is a day off. For example, the first of January was on Saturday; that's why the third of January, Monday, was a day off. Well, you got the idea.
Here is a complete list of Ukrainian public holidays in 2022. Our Redwerk team wishes you a fruitful, prosperous, and memorable year full of life-changing partnerships and heart-warming family moments!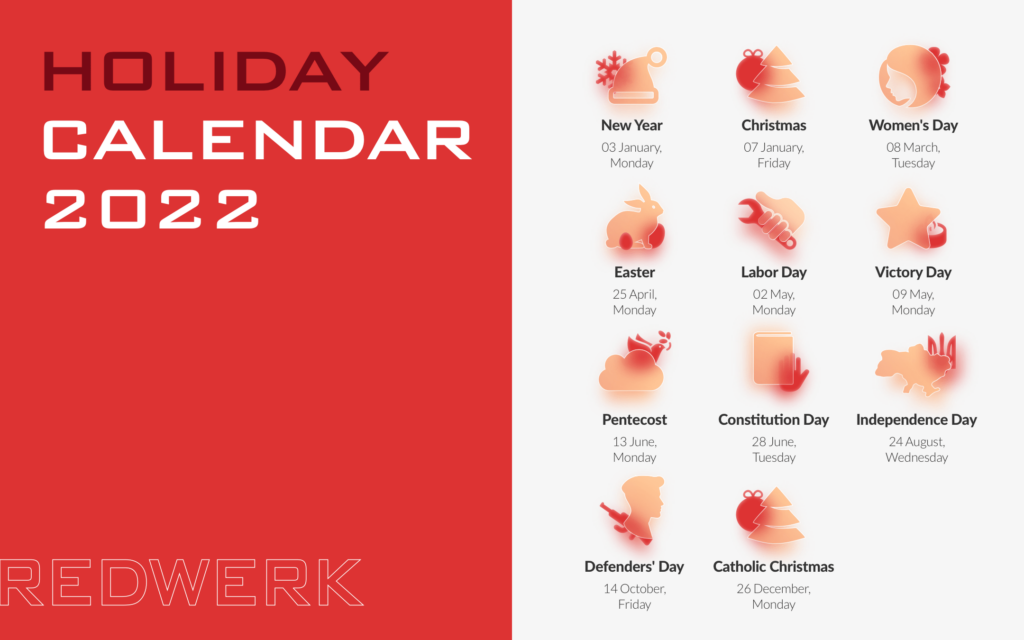 About Redwerk
Redwerk is a software development agency specializing in building SaaS products for e-government, e-commerce, e-learning, media & entertainment, healthcare, and gamedev businesses.
Since 2005, we've delivered over 250 projects, which translates into 50 million users relying on our solutions. Our R&D offices are located in Kyiv and Zaporizhia.
Among our most recent projects are:
Kooky, an intelligent reusable cup system developed in less than 2 months
Current, an e-government SaaS already used by six public service agencies in the USA
KillerBee, an automated smart pricing solution for construction materials companies, speeding up quote generation by 90%
But don't just take our word for it; see what our clients say about partnering up with Redwerk.