Creating awesome apps isn't simple, but using them should be.
For more than 8 years Redwerk has been providing high-class iOS app development services for businesses worldwide. Due to the rapid development of technology, mobile devices are becoming increasingly available, and this leads to the fact that many people have acquired a variety of gadgets, on which they keep many useful and entertaining mobile applications.
Custom iPhone or iPad app development requires a high level of preliminary consulting, smart strategy, best use of smartphone technology, a clear understanding of how the iOS app fits into the overall Apple products infrastructure, and we know how to make things work. Redwerk has strong expertise in Objective-C and also in Swift languages, as we work with the later since it was first displayed at Apple's WWDC in 2014, so you can entirely rely on the professionalism of our team in the development of your app.
Apps for iPhone and iPad
The latest iPhone release with its technological advances made the smartphone a "big fish" on the mobile market. The mobile phone and its capabilities continue to evolve at a rapid pace. Hence Redwerk is a fervent advocate of that applications specific to the iPhone must also keep up with the technical features and be supported by Apple gadgets. So if you need scalable, thoroughly tested and ready to be rolled out in the App Store product, choose Redwerk, the right iOS outsourcing company that can ensure a full-cycle development and knows how to make it best.
Be Competitive
Outsmart your bitter rivals by relying on iPhone and iPad app development on Redwerk. We help you embody your intent and vision into a functional and well-designed app, wiсh looks perfect on the screens of all resolutions and meets the expectations of the elite iPhone users.
Be Omnipresent
Redwerk developers handle requirements from virtually all segments and verticals, including e-commerce, e-government, games, travel, sports, social networks, and other useful apps. Besides, we are adept at integrating new iPhone apps with existing mail, voice, and GPS services.
Be Compliant
Be compliant or be gone. Being impeccable means being rule- and policy- abiding; therefore in addition to technology, Redwerk experienced iOS developers also ensure that the results are supported by standards published by Apple so that products to appear in the iPhone App Store catalog.
Selected iOS Development Cases
Over 20 iOS app development projects done in 7 countries.
Why Should You Rely on Outsourcing?
We Cut Spendings not Quality
The smartphone itself is quite expensive as are the resources that are employed to create iPhone solutions. Redwerk, your reliable outsource iPhone application development company, harbors the greatest minds and A1 tools to render decent and affordable iOS app services.
Stay Focused on Your Business
Outsourcing to Redwerk saves you from the costs of recruitment and training of developers in order to create high-quality software based on emerging technologies. Our well-trained and proactive resources offer innovative ideas and help identify suitable tools that can be used to implement the necessary functionality.
You Become a Majority Shareholder
When outsourcing to Redwerk you get talent, skills, resources, tools, dedication, and transparency in a trice. The latest technology and specific areas of the update let us engage in various business perspectives, covering application development manage, testing, and maintenance.
Our Custom iOS Development Services
Native iOS App Development
Swift and Objective-C are the technologies we apply to native iPhone software development. They ensure the higher performance of the application and make full use out of the iPhone or iPad's features. If you are seeking a native robust and complex solution, we will gear up and focus our expertise to make it so.
Hybrid iOS App Development
Unlike native development, hybrid apps are built up with HTML, CSS, and JavaScript, and then wrapped in a native application using such tools as Cordova. It suits for non-complex solutions and takes less time to build both Android and iOS apps, but requires no less serious approach to the development.
Apps for Apple Watch
Mobile technologies have already become a part and parcel of our lives, so Apple Watch applications are not a miracle anymore, as they used to be. Now, this watch is a useful accessory for many people and apps are in demand, too. We can help you to adapt your iOS app to Apple Watch format, taking care of design and functionality.
Prototyping and Business Analysis
Our qualified business analysts know how to define the requirements correctly and explain them to the programming team. The visual model of what a software solution will look like and how the user will interact with it is essential for the development process, so we pay particular attention to this.
UI/UX Design for iPhone or iPad
As you may know, to hoard and multiple users and to occupy the top notch place on the mobile app market, your app should not only provide useful features but also have a great and intuitive interface. Redwerk design team can implement all modern design trends into your product and make it memorable for anyone who will interact with it.
Upgrade and Maintenance
If your iPhone or iPad solutions need the upgrade, we will carefully consider your wishes and insert all necessary changes into the application. As an iOS app development company, we also offer maintenance services for software solutions we ever developed or worked on.
Technologies Our iOS Developers Master
Benefits of Outsourcing iPhone
and iPad App Development
Still wondering whether you need iPhone app outsourcing? We have collected arguments that will help you make a decision, as with Redwerk tech-savvy team:
You are one step ahead of your competitors.
Your customers' loyalty will grow, like access to your company is on the customer's fingertips.
You receive a powerful tool in your marketing arsenal.
You fatten the profits with the help of our iOS solutions.
You get free advertisements for your company because useful and interesting applications for iPhone are scattered via word of mouth.
You get the application that allows the automation of the business processes of your company.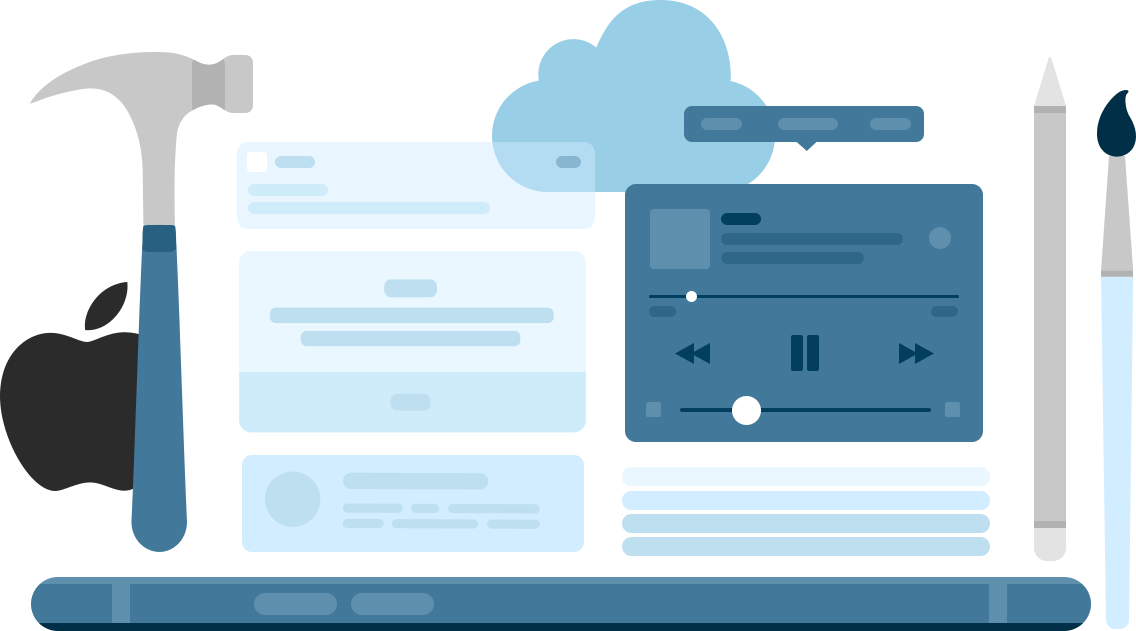 Why Us
Skilled iPad/iPhone Developers
If you need iPad/iPhone developers, Redwerk has just what you're looking for. Our development team can take care of all your iOS outsourcing needs: no matter what kind of app you're looking to create, we have the experience and expertise to provide exactly the solution you require.
Management and Communication
When you outsource your iOS development to Redwerk, we make sure that communication is efficient and convenient. Our development team is fluent in English and can easily understand and convey details about your project. A business analyst will also take care of your account at no extra charge.
Legal Protection
Your information and business secrets are yours and yours alone. All your sensitive data is protected by non-disclosure agreements, and non-compete agreements ensure that Redwerk and its clients are mutually protected.
Price Advantage
You can save money by outsourcing your iOS development to Eastern Europe. At Redwerk, our rates provide savings of 25% or more over rival outsourcing firms.
Intellectual Property Rights
All projects developed by Redwerk belong to our clients 100%. Your software is your own, completely and in perpetuity.
Working Hours & Time Zones
No matter what time zone you live in, if you need iPad/iPhone app development, we can accommodate your needs by adjusting our working hours to coincide with yours.
Looking to outsource iOS development?
1/5
OF OUR STAFF ARE
MOBILE DEVELOPERS
20+
SUCCESSFUL PROJECTS
FOR ISO
12
MLN TOTAL USERS OF THE
APPS WE DEVELOPED
7
COUNTRIES THAT CHOSE
US FOR THE IOS
DEVELOPMENT