Nowadays 92% of traffic goes to the websites on Google's first page.
How do we compete with that?
Comprehensive Website Audit
Our seasoned experts will help you conduct a complete SEO audit to determine the gaps in your marketing strategy and significantly increase your website traffic. Working on the big picture stuff is as important as improving day-to-day operations.
Accurate Competitive Analysis
The Redwerk team will help you find out what works for your competitors, how you can benefit from their weaknesses, and what strategies should be avoided. Stay forewarned to be forearmed.
Thorough Keyword Research
To set a clear, attainable, and relevant goal for your marketing strategy, you need to start with gathering organic keywords in your specific niche. Researching keywords allows you to have a better understanding of your customer needs.
Immediate Local SEO
People in need of service usually search for places in the vicinity, which is why more and more companies start working on their local SEO. Redwerk offers local business SEO services to help enterprises rank high in Google maps.
What You Get
Relevant Website Traffic
Enhanced Brand Awareness
Original Expert Content
Increased Sales
Example
How Will Your Free SEO Audit Look Like?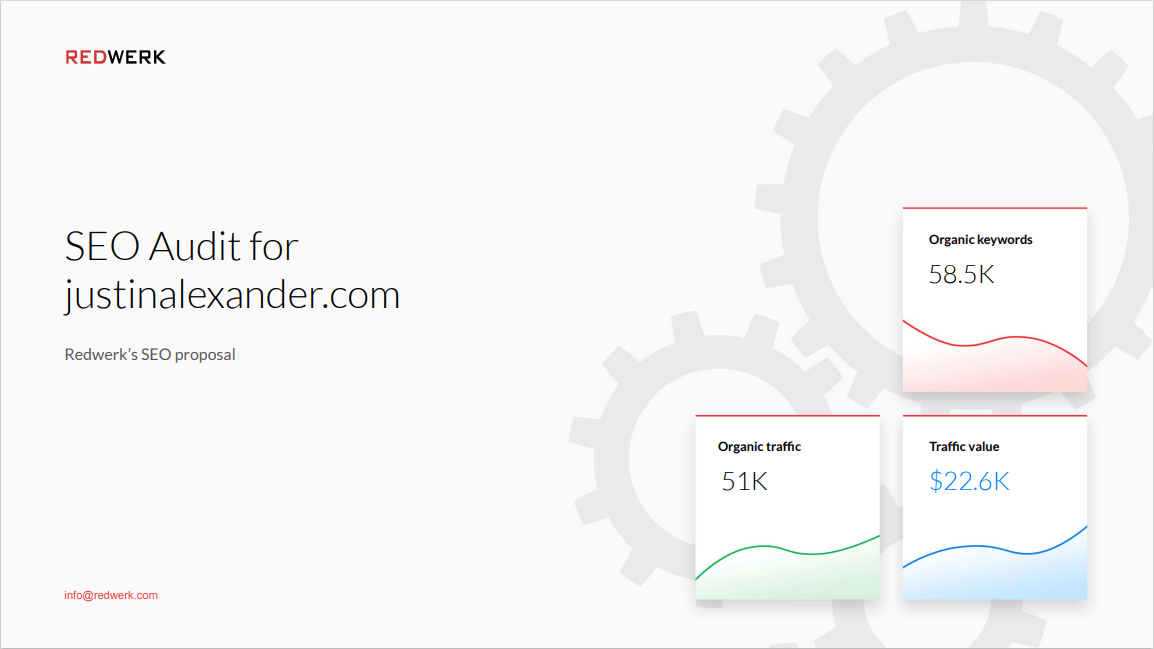 ×
Where do you want us to send our SEO audit sample?
Free SEO Audit
Get PDF
×
Where do you want us to send our SEO audit sample?
Why Us
Present-Day Link Building
It is vital to follow the latest link building trends and implement respective measures. Redwerk professionals offer affordable SEO services to help businesses adjust to external changes.
Efficient Content Marketing
Today search engines have the technology to distinguish the quality original content from an uninformative and plagiarized copy stuffed with commercial keywords. Proficient in delivering SEO services for small businesses, Redwerk will boost your brand recognition from the very start.
Fully-Qualified Team
Redwerk's team is staffed with the best specialists in development, QA, and SEO. That gives your product the advantage of comprehensive in-depth analysis.
Our Customers
We have worked with over 170 businesses from North America, Western Europe, Australia, and New Zealand.
FAQ
Do you do both On-Page and Off-Page SEO?
Yes, we optimize on- and off-site ranking factors to increase the authority of your resource.
On-page SEO includes measures taken within your site. Here we work on:
Keywords
Content
Title tags
Alt texts
SSL/HTTPS
URL structure
Internal linking
Breadcrumb navigation
Page performance
Core web vitals
Mobile-friendliness.
Meanwhile, Off-Page SEO increases the authority of your domain by getting quality links from other resources.
How long will it take to get me on the first page?
It takes 4 to 12 months depending on your niche competitiveness, whether it's a new site or existing, the quality of content, and even how active you are on social media.
Recent studies by Ahrefs show that only 22% of pages that currently rank in the Top10 were created within 1 year. This means that today it takes longer for young domains to outperform the dominance of old ones.
What is Local SEO?
Local SEO focuses on ranking your business higher in Google maps when your audience is looking for a service in their vicinity. Make sure potential customers located nearby your business can spot you, not your competitor, on the map.
Local SEO is unique in its own way as it has a different set of ranking factors. Those include:
The location that the person is searching from
NAP citations
Presence of Google My Business listing
Keywords used in GMB profile
The sentiment of online reviews
Keywords used in online reviews
Number of "check-ins" at that location
Shares on social media
Google Maps star rating for that business
According to a Search Engine Roundtable report, 46% of all searches in Google have "local intent".
What is Technical SEO?
Technical SEO includes website and server optimizations that help search engine spiders crawl and index your site better. Technical optimization stands for making your site faster, more understandable for search engines, and easier to crawl.
Characteristics of a technically sound website:
Fast load
Crawlable for search engines
Doesn't have dead links
No duplicate content
It's secure
It has structured data
It has an XML sitemap
Want your product to be found by customers?
Request your free SEO audit right away.
250+
projects
accomplished
50m+
users of solutions
we develop