The pandemic has led to an increase in the use of polystyrene products. Due to the restrictions on dine-ins and hygienic reasons, we all switched to takeouts. And takeout food and beverages don't leave premises without plastic packaging. That is, paper cups to-go for your morning coffee included.
The Problem
Did you know that paper cups are actually not eco-friendly? It is easy to dispel the "paper cup" myth once you put your mind to what keeps such a cup from collapsing into a soggy mess when filled with your favorite hot beverage. What we have here is the polyethylene lining. The paper wrapped into this type of plastic film is incompatible with simple paper waste — ergo unsuitable for recycling in many facilities. Most paper cups end up in landfills, lingering in soil and water and producing a far-reaching impact on the environment.
Every single day, billions of disposable cups are thrown away worldwide. The data below is collected from pre-pandemic sources, so the actual numbers are even more dramatic.
Globally, the annual production of disposable coffee cups requires:
32 mln trees
100 bln litres of water = 43 thousand Olympic swimming pools
Greenhouse emissions = 0.5 mln cars
The term "throwaway living" was introduced in the 1950s, promising a bright future unburdened by household chores and freeing us from the maintenance of our possessions. We are all witnesses to how this motto failed. Today, environmental issues are multi-layered, resulting in ordinary consumers' inability to assess the scope of an ecological disaster they are daily sponsoring.
The Solution
Given such grim realities, we are proud to announce that our cooperation with one outstanding green business has already borne fruit. Meet Kooky — innovative pioneers who came up with a game-changing environmental business idea and brought it to life.
Redwerk has been an advocate of conscious living for 16 years, supporting green initiatives of local and international businesses.
Read on to learn how our company helped Kooky implement an intelligent reusable cup system and ensure a smooth product launch, regardless of tight deadlines.
Where Business Meets Sustainability
As we have established the need to revamp our attitude to consuming beverages on the go, let's consider an already implemented approach that has proven its efficiency – zero tolerance for single-use plastics at festivals and large-scale events. More and more festival runners ban the use of disposable plastic cutlery and offer eco-friendly alternatives, such as reusable beverage cups. Bars on-site offer refills or full cup deposit refunds. Those reusable cups are thoroughly cleaned before being filled again, rather than thrown away after being used once.
Kooky founders, Torge Barkholtz and Max Zott, counted in ecological and social costs of single-use coffee cups and took the idea a step further by offering a similar principle into our daily routine and polishing it to a perfect response to the challenges of big city life. This project introduced the first digital cup smart system implemented in a partnership with Swiss Federal Railways, Valora Group TakeAway & Retailer, and Coop Retailer.
What is Kooky?
During the COVID-19 pandemic, the volume of packaging consumed, particularly non-recyclable cups lined with polyethylene, reached alarming proportions. An efficient response is switching to reuse. However, due to hygienic restrictions, not all the cafes and other take-out points were allowed to accept reusable cups from their clients for a refill, since they introduce an unnecessary disease vector putting staff and clientele at risk.
Kooky founders decided to make this switch appealing, stressing that customer convenience comes first, green business included.
"My lifestyle is the lifestyle of many people. They want to use reusable systems, but it's not comfortable. Maybe because there was no nice way to return your coffee cup. In an analog world, it's really that you have to find another location, another outlet where you physically have to bring it back, maybe stand in line, or get your euro or franc physically back. And also, for the gastro partner, it was not convenient,"
Consumers opt for joining Kooky not only due to their environmental concerns but also because it is truly handy. There are three easy steps: scan > drink > drop. Let's clear out the details:
Get your drink in a Kooky cup, and scan it to add the cup to your Kooky app account.
Grab it and go, enjoy your drink!
Drop the empty cup off in one of the many Kooky boxes in Zurich or Basel. The cup adds to your account, getting your deposit back in a split second.
The journey of a cup continues to the realm of the Kooky's rinsing logistics. Cups are cleaned according to hygiene regulations and standards, picked, packed, and distributed to Kooky's partners again. An interesting fact to mention: following the journey of a disposable product from a factory to a consumer is harder than tracking the path of a reusable item from dishwasher to its user. Cleaning, sanitizing, and handling reusable food-service items allows the best control of germs, thus preventing the spread of illnesses.
Reusable Cup System in Action
The beauty of the Kooky project lies in that it caters to the needs of individual consumers and large corporations. While sustainable living starts with each of us, big companies and organizations have a more significant impact on our environment. They produce more waste than a single person but at the same time have the power to better manage waste because of a centralized process.
If you're into green initiatives, you've probably heard of German The Good Cup, Freiburg Cup, or French Ecoverre. While Kooky is not the first company that has come up with the idea of a reusable cup system, it is the first to have seen significant drawbacks of such systems and addressed those inconveniences, making reusable systems efficient, more accessible, and easier to adopt.
"Together with Redwerk, we make this cup intelligent; we make it smart. So, with a combination of QR code and NFC tag, we know the stages of our cup. Our hashtag is, "Leave no cup behind," so this is what we want to do. We don't want to track the user; we just want to track our cups because we don't want these to get hidden in the kitchen or thrown away. We want them back; we want them washed. We're not a plastic company; we're a tech company,"
So far, Kooky has installed over 40 Kooky boxes in Zurich and Basel, and together with its partners, it will reach 100 boxes by the end of the year. Torge believes several hundred Kooky boxes will be needed to cover Switzerland entirely and establish a working reuse infrastructure. We know this milestone is achievable, especially considering the ecological and economical advantages of the solution:
Only 22 reuses needed – after this number, the cup becomes more sustainable compared to a disposable one. Being among the top 10 countries addicted to coffee, Switzerland is unlikely to face any issues with going way over that number.
Up to 500 washes – Kooky cups can be recycled multiple times, which saves tons of money otherwise wasted on single-use plastic.
100% recyclable – unlike disposable cups that are almost never recycled, apart from 0.25% cups that somehow find their way into the limited number of facilities that can handle them, every single Kooky cup can be recycled.
Launched in July 2020, Kooky has already won the trust of Switzerland's major federal and corporate organizations. Kooky boxes can be spotted in the following areas.
Train Stations. Kooky boxes have been introduced to two Swiss train stations – in Zurich and Basel. This gives Kooky huge visibility. More so, cooperating with SBB opens the door to SBB's partners, who are giant retailers and takeaway providers.
Hospitals. Zurich City Hospital has also joined the ranks of environmentally-conscious organizations in Switzerland. Its Waid and Triemli hospitals have several drop-off boxes on site and issue drinks in Kooky cups. Thanks to Kooky, Zurich City Hospital will no longer need to purchase 167,000 disposable cups each year, which is highly practical both from the ecological standpoint and moneywise.
Takeaway Chains. Another crucial partner helping Kooky gain the needed density of Kooky boxes is Valora. The latter is a leading foodvenience provider with about 2,700 sales outlets at frequently visited locations in Switzerland, Germany, Austria, Luxembourg, and the Netherlands. As a result, Brezelkönig, Superguud, Caffè Spettacolo, and "Coop to go", Valora's subsidiaries, all have Kooky cups readily available for coffee-to-go lovers.
Campuses. Campuses are a perfect destination to nurture the culture of sustainable living. Since fall 2021, over 3500 students in the Toni area can use the Kooky reusable cup system spread across the campus gastronomy. This became possible thanks to Kooky's partnership with ZFV, a large Swiss enterprise running about 200 restaurants, hotels, and bakery businesses throughout Switzerland.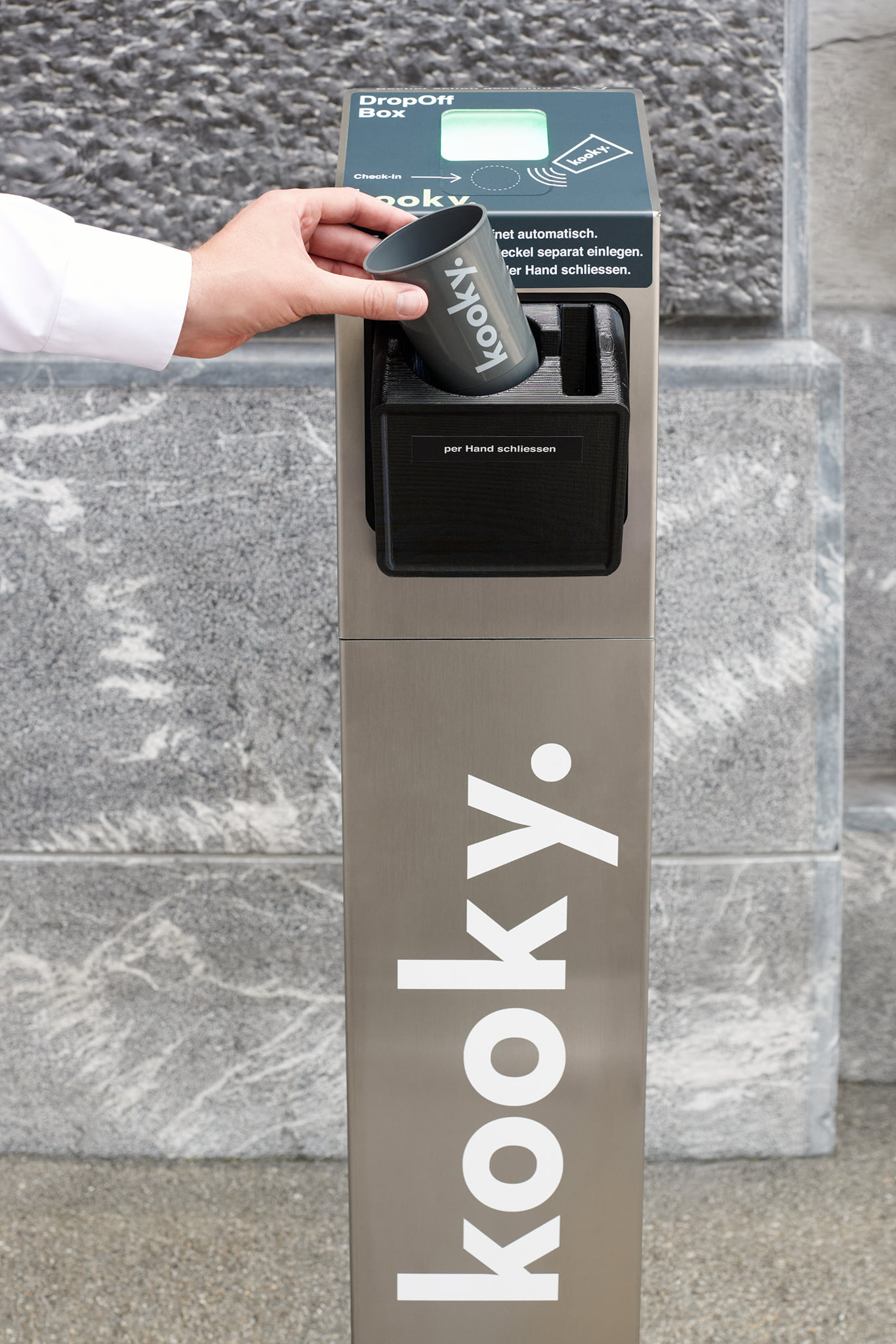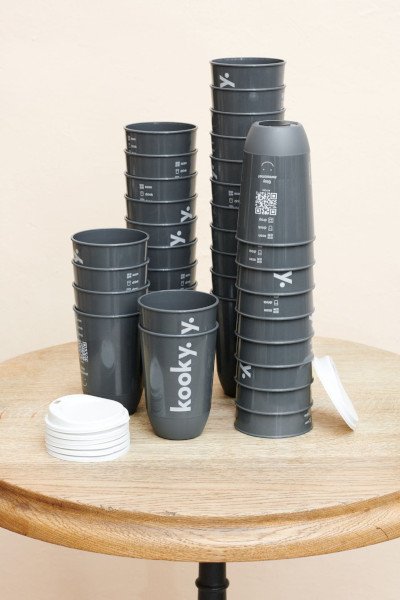 Why Switzerland?
Sustainability has become a buzzword in the last decade. Rightly so: the issue is particularly relevant for Switzerland since the country shows a notoriously remarkable "appetite" for plastic. The necessity for transformation is apparent; simply look at the numbers: each year, the country generates nearly 100kg of plastic waste per capita — more than three times as much as the European average.
Unlike the EU, Switzerland does not have a similar ban on single-use plastics yet, so the Kooky initiative is a truly pioneering step that tackles global challenges like climate change, biodiversity loss, waste, and pollution. The project promotes an environmentally friendly lifestyle, offering a key to it — the reduction of disposable plastics used.
On the tech side, Redwerk factored in ground-breaking client ideas to develop a platform that offers a single dashboard to manage orders, payments, and shipping, enabling a hassle-free operation of the Kooky project.
Reducing your environmental impact has never been easier: when progressive innovators, such as Kooky and Redwerk, team up to work together toward sustainable solutions to make the circular economy a reality. Redwerk offers software development solutions for green tech startups seeking to:
Save environment
Reduce operating costs
Attract new customers
Together with Kooky, we've made a rather compelling case for not only pursuing sustainable goals in sync with the environment but also showing the importance of attuning to changing consumer values and the ever-and quickly-evolving IT solutions. We proved that the onus is on all of us to be eco-responsible. Moreover, we know how to switch efficiently to benefit your business.
Redwerk's Part in Kooky's Launch
Redwerk's services stand on three pillars: software development, maintenance, and support. As a software development agency, our primary goal is to help our clients implement their product vision by finding the most suitable technical solution for their needs and bringing it to life. We support our clients at each stage of SDLC – from requirements analysis to product launch and post-release support, taking full accountability for the final result.
Kooky came to Redwerk with the need to build a comprehensive software ecosystem to run all of the startup's operations. The project's team needed a coherent system that would increase efficiency, ease management, and provide end-to-end visibility into logistics, payments, and inventory. Given quite the explicit challenges the project displayed, it certainly looked like a job for the Redwerk team. We managed to translate the founders' clear vision into a solid software solution.
Challenge
Given that Kooky is the first user-oriented keepcup solution in Europe, we took the promotion of this vision as the #1 priority. We complemented Kooky's product concept with our technical expertise, making sure our solution is highly convenient both for individual users as well as foodvenience providers.
To answer this challenge, we delivered software that allows running all the elements of the project under one hood. For example, we needed to provide logistics control, that is collect and display all the required information on Kooky boxes, cups, and deliveries.
We also needed to cover the administration of in-system payments, organize operations center work and workflows, and implement management of partner locations.
To name particular challenges our team faced during development, we could mention the following:
Tight deadline. Redwerk has over 16 years of experience in managing tight deadlines, so we started laying the ground for the product's architecture at the stage of requirements elicitation.
Partners' locations. The realization of the Kooky's partners locations' search and display using Google Maps turned out to be a particularly demanding element of the system's architecture.
High standards. Many green businesses fail — this is a sad reality of the modern business world. Therefore, Kooky set the bar high in terms of the quality and reliability of their software to power the project.
To provide the most efficient response to the raised challenges, we shoot for the stars in dedicating our professionalism to finding the most efficient answers.
Solution
Our made-to-measure solution digitalized the entire process of monitoring and managing system elements such as Kooky Boxes and Kooky Cups, no matter what scale. Our solution included:
Web-based reusable cup system
API for Kooky Boxes
API and backend development for a mobile app
Redwerk professionals scrutinized the project's business scenario and executed adequate steps to simplify the crucial business processes. The decision was to appropriate the divide-and-conquer principle: the reusable cup system covers the workflows of the operations center and the partners' portal.
Operations Center: Operations center staff now can quickly get all the necessary information on all the cups and boxes in the system, manage logistics, deliveries, money transfers, and coordinate partners and users.
The system is broken into the handy categories:
Kooky Boxes
Kooky Cups
Map
Users
Partners
Orders
Partners Portal: For the Kooky partners (representatives of restaurants, cafes, and coffee-to-go spots), the system allows them to manage the cup stocks remotely, order redistributes, and edit all the information regarding their business in the system independently.
Result
Bringing a green tech business to life requires not only a feasible, innovative, and highly appealing idea, but also the right partners besides you. Kooky's bet on hiring a service agency instead of forming an in-house development team freed up a lot of their time, which they used for focusing on their business and sealing deals with new partners.
Redwerk has lived up to the expectations by resolving the challenges and delivering the promised value:
Short deadline. Despite the tight deadline, our flexible approach allowed us to deliver up to the client's high expectations within the initially allocated time frame: the Redwerk team developed a fully functioning solution in 2 months' time. The limitations were resolved thanks to close communication with the Kooky team.
Partners' locations. We have utilized the Geocoding API to add partners' locations to the unified system. Google Geocoding API allows for intuitive loclocation management and further integration to other services.
High standards. Providing reliable and efficient software foundations for our partners' businesses is the gold standard by which we measure our professionalism. We are proud to support environment-friendly revolutionary ideas, ensuring they are up and running, making the world a better place.
Redwerk has been in software development since 2005, helping our clients identify and deploy solutions to level up their businesses. Kooky's decision to invest in custom software laid the solid foundation for staying on top of their game — the system we delivered allows leveraging their noble vision's potential to the fullest.
Final Words
With the increasing doom and gloom of the environmental crisis, it is crucial to hold out hope that even every little pro-eco choice matters. Thanks to such projects as Kooky, environmentally conscious choices are becoming more attractive to the general public. Reducing disposable plastics is the most effective means of fighting for cleaner nature and oceans.
A "paper" cup needs hundreds of years to break down in landfills, dissolving into microplastic and finding its way to the human body. Together with Kooky, we needed two months to offer an efficient and handy solution to break this vicious cycle, leaving no excuse for single-use. Tailor-made software is a backbone of modern startups that bring innovative solutions into full bloom. And our proven track record of success with long-term partnerships is your guarantee.
Get the message out there and leave no cup behind!
See how Redwerk helped Kooky to become #1 digital green solution in Switzerland