Around three years ago, one multifaceted company made a timely solution to invest in bespoke software, and Redwerk took care of its development kick-off. That company was Mass Movement, and today, the business has reached new heights.
We highly value our long-standing partnership with Mass Movement and proudly announce our client's big step forward – its acquisition by J.B. Hunt Transport Services.
Let's review the key actors and reveal the major factors that made this deal happen.
Mass Movement Purchased by J.B. Hunt
What is Mass Movement?
Mass Movement has been a big player in the fitness equipment market for over two decades, offering line-haul transportation, commercial fitness warehousing, assembly & installation, field service, repair, and preventive fitness equipment maintenance throughout the United States and Canada. The company has successfully delivered two million-plus pieces of equipment to more than 3,500 fitness centers due to its exemplary responsiveness, quality of work, and execution.
As the company expands its fitness equipment delivery and maintenance business, its acquisition by J.B. Hunt becomes a crucial milestone to mark the long-run entrepreneur success.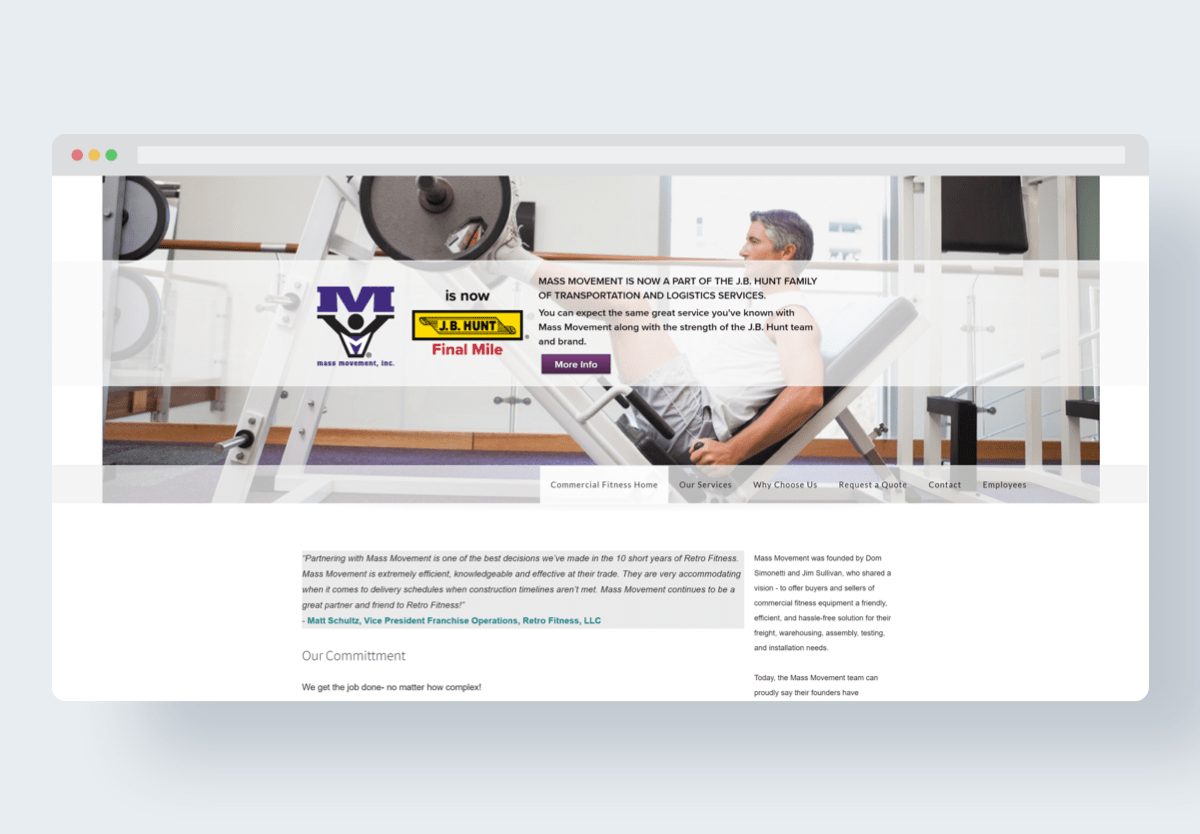 What is J.B. Hunt?
In sixty years of operating in transportation and logistics, J.B. Hunt Transport Services has grown to become one of the largest companies in North America, catering to their customers throughout the continental United States, Canada, and Mexico. The company is continually growing, incorporating technology-driven approaches to cater to their clients' needs with top efficiency and flexibility. Strongly increasing its turnover, in 2017, J.B. Hunt purchased Special Logistics Dedicated. The company later acquired the assets of RDI Last Mile Co. and Cory 1st Choice Home Delivery in 2019. The turbulent 2020 concluded on a positive note with the acquisition of Mass Movement.
Why J.B. Hunt Purchased Mass Movement?
J.B. Hunt Transport, Inc. acquired the assets of Mass Movement, Inc. on November 30, 2020. As mentioned in the official statement, this step was taken with the aim of expanding the company's expertise in the final mile delivery of big and bulky products. The acquisition of Mass Movement complements the current company's services. It is planned to enhance the ability to meet customers' growing demand in the commercial health and fitness industry.
Mass Movement is highly valued by industry manufacturers and facility owners, thereby meeting the high standards of reputation and service quality requirements of its nowadays parent company. Following the current tendencies, we believe that much of Mass Movement's progress was primarily due to proper investment choices, namely in their corporate software. At Redwerk, we put our expertise at the service of our partners and always proudly witness their small and big wins.
Redwerk's Part in Mass Movement Success
Ultimate Importance of Custom Software
Our SaaS product development agency went global in 2005, and the considerable experience we've gained tells us that the demand for bespoke software only tends to increase. One of the many reasons for an ever-increasing demand is that the appeal and key purpose of custom services lie in responding to even the most specific business requirements. Below we've listed some major benefits to expect when investing in made-to-measure software:
Scalability – Mass Movement's switch to custom-built software products perfectly illustrates our point here. As the company grew, packaged software did not respond efficiently to the changing business needs but held back the development.
Great flexibility and personalization – change is the only constant, thus for a business to stay afloat equals staying adaptive and resilient in the face of change. Custom-built software fits seamlessly into the existing processes as well as facilitates the introduction of new ones.
Profitability – software-wise, going customized has proven its excellent cost-effectiveness for companies. The cost is offset by increased efficiency, better optimization, and management (just to name a few). In the long run, opting for bespoke software amounts to a considerable ROI boost.
These are just some of the many pros in favor of customized corporate software. Now let us take a closer look at our cooperation with Mass Movement.
Logistics Challenges
Every business has some necessary process that is particularly distressing by taking too much time or costing too much money. For the logistics industry, it is often inventory management. Given that Mass Movement has been in the market for almost two decades, the company went through changes and off-the-shelf software solutions couldn't cater to all the needs of a rapidly growing business. Through trial and error, our client came to realize that a one-size-fits-all business process automation system does not suffice.
Mass Movement opted for Redwerk services wishing to design a tailor-made inventory management system. In the course of successful cooperation, our developers took on the second big task of delivering a desktop resource planning tool with its succeeding mobile solutions for iOS and Android. For better data processing, we also created Windows service and Excel macros. The software we built proved to be highly efficient for internal business process optimization, helping the company step up its game.
For more details on how Redwerk won Mass Movement's trust and assisted it in becoming a part of the J.B. Hunt family, refer to the case study about our cooperation.
Our Solutions
Nowadays, Mass Movement' operations are orchestrated with resource planning and logistic tools custom-built and meticulously supported by Redwerk professionals. Here is a closer look at the products we delivered.
A custom-made Inventory Management System became a one-stop-shop to deal with most pain points for good. With the IMS, we enhanced the workflow with the features such as:
Easy access to inventory reports
Packlists and warehouse inventory management
Outbound and inbound truck handling
The tool allows for automation of repetitive tasks and timely strategic decision making, thus scaling a business without additional hiring.
To ensure seamless planning processes, Mass Movement tasked us with designing a resource planning tool. The large amounts of corporate data that require proper alignment rely on a complicated equilibrium; thus, to prevent the whole system from malfunctioning, the management of business orders in line with mapping employee availability and capacity must be running like clockwork. For the company's resource planner software, the client opted for the tool with a Google-inspired simplistic design and the following key features:
Order management optimization (monitoring, editing the details, assignments setting, resource coordination, etc.)
The ability to monitor and manage pickup/delivery loads and carriers information
Employee coordination: availability and capacity planning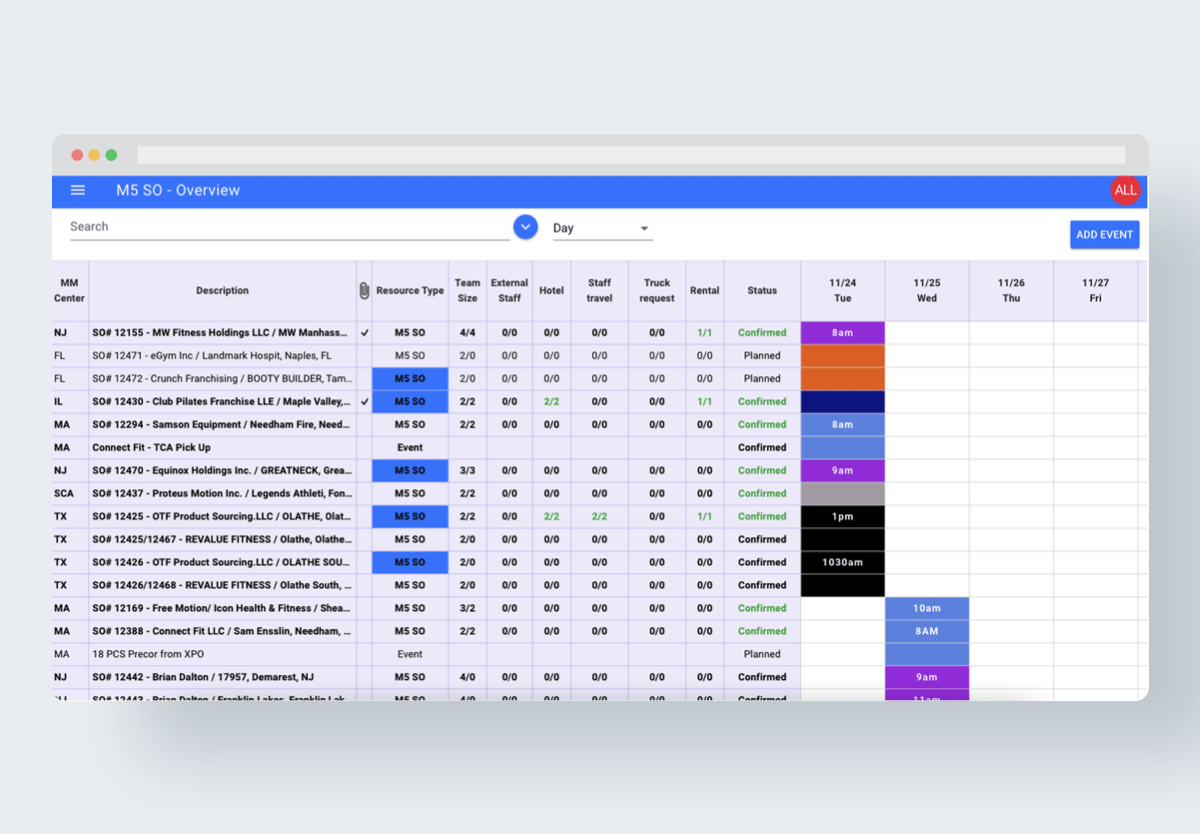 After this Resource Planner proved itself a reliable tool to bridge core planning and execution, we built iOS and Android applications to further optimize task management for technicians and regional managers. The apps' major features:
Calendar View: allows viewing scheduled tasks for the workweek (e.g., planned installations or uninstallations)
Detail View: for tracking all the order data details
Admins and regional managers have advanced permissions to monitor technicians tasks according to their warehouse/region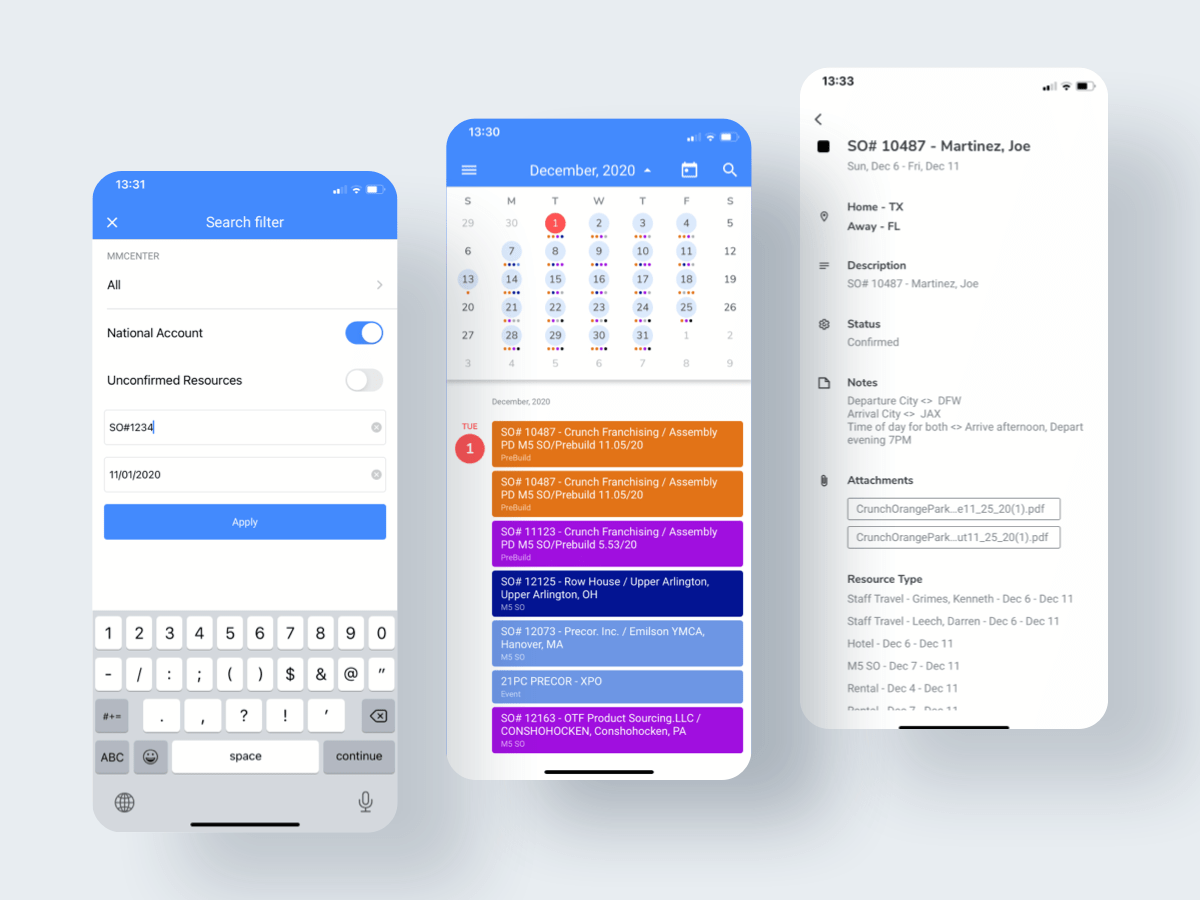 Efficiency of SaaS Product Development Agency
After choosing to go with customized software, it is crucial to entrust the processes to the best of hands. The smartest way to go about this is to delegate the task to a trustworthy software development agency. Let us vouch for this statement with some arguments. By hiring a software development agency, you get:
Relevant tech expertise – opting for an external software development team gives a benefit of choosing professionals experienced in the required technologies. A little tip here: look for technical excellence that speaks through past projects.
Fully manned development team – this is something one cannot simply expect from a freelance developer. From a development plan to post-launch improvements, there is a person to do their part of the job.
Cost-effectiveness – forget about pulling in-house developers from their current tasks, causing slowdowns for other projects. With external teams close attention to the project in question is enclosed.
A life-saving remark: before sealing a deal with a custom software development agency, ensure that the chosen hire is reliable and has the required competencies. Otherwise, all the pros might turn into cons overnight, causing much distress and disappointment, Cinderella-style.
At Redwerk, we offer the exact solution you want to articulate for your business. We know the ropes of developing SaaS solutions and native mobile apps for iOS and Android for startups, mid-sized, and large-scale businesses.
Mass Movement do their job well, on time, every time. So do we here at Redwerk: our company has always prided itself in its commitment to customer success. We are happy to be a solution provider that accelerates Mass Movement's growth. We wish our partners a seamless and easy shift to a new stage as a part of the J. B. Hunt family of transportation and logistics services.
See how we helped Mass Movement join assets with J.B Hunt, increasing its quarterly revenue up to $2.74 billion.