The Chapter of Stats and Trends
This year, Redwerk team has returned to Web Summit with the seasoned has-seen-it-all-before feeling. With such a massive venue and some experience with it, you'd think it would be difficult to find value, and it's true, you could easily get swept away in the talks, stands and freebies, but if you're savvy, there's a lot to benefit from this enormous geek fest.
First of all, it became bigger, for another 7000 people comparing to the last year. So, there was no chance to avoid 60 000 crowd of web-summiters wherever you go.
This year really is the year of AI. The opening ceremony saw Brian Johnson, creator of Braintree (acquired by Paypal), talking about his new venture Kernel, and the aims to push the limits of human ability. The secret speaker, prof. Stephen Hawking, shared his concerns about the potential dangers of AI, but also acknowledged the benefits we could gain. And of course, Sofia the humanoid, proved how far robotics and AI had gone already. Regarding consumer trends, almost everyone is talking about the power of AI from a customer chatbot perspective.
Besides artificial intelligence Web Summit attracts all kinds of video bloggers and weirdos. The number of peeps streaming speeches, pitches and interviews from all around the venue was just enormous. It seems like every attendee got on at least one camera.
All in all, Web Summit has its exclusive charm that gathers the most prominent minds to this wild paced ride where knowledge, technology, and fun mix up together.
The Chapter Where Everyone Works
All three days after the Grand Opening was dedicated to numerous meetings and exploring the exhibition halls, where booths surprisingly switched from last year's VR madness to coffee shops with charging points. Thousands of startups from various industries, on different stages from idea to plug-and-play rotated every day, giving no chance to slow down if you were aiming to catch them all.
Here's what we managed to catch:
The (fun) Chapter about Sunset and Night Summit
If you ever heard of Web Summit, you know that things get even more exciting when the sun goes down. The nightlife culture of Lisbon itself and Web Summit, in addition, is something to check out. Since it was our second time in Lisbon, it was way easier to locate the parties.
As the attendance has grown since the last one on a good ten thousand people, Pink Street and Bairro Alto were not enough. So, Web Summit team added another spot to the list of official night events – LX Factory, a great industrial set of establishments under one roof. In its turn, Pink Street was so overcrowded on the first two days, that you could easily take part in a human traffic jam, like those you see during Black Friday market.
Everywhere you went, you met people from Web Summit. Startupers, investors, and speakers flooded bars, restaurants and clubs. The best spots in Lisbon were packed with the IT crowd from around the world. That's how we caught up with Brad Parscale, the founder of the marketing agency that did the online presence of Trump's presidential campaign.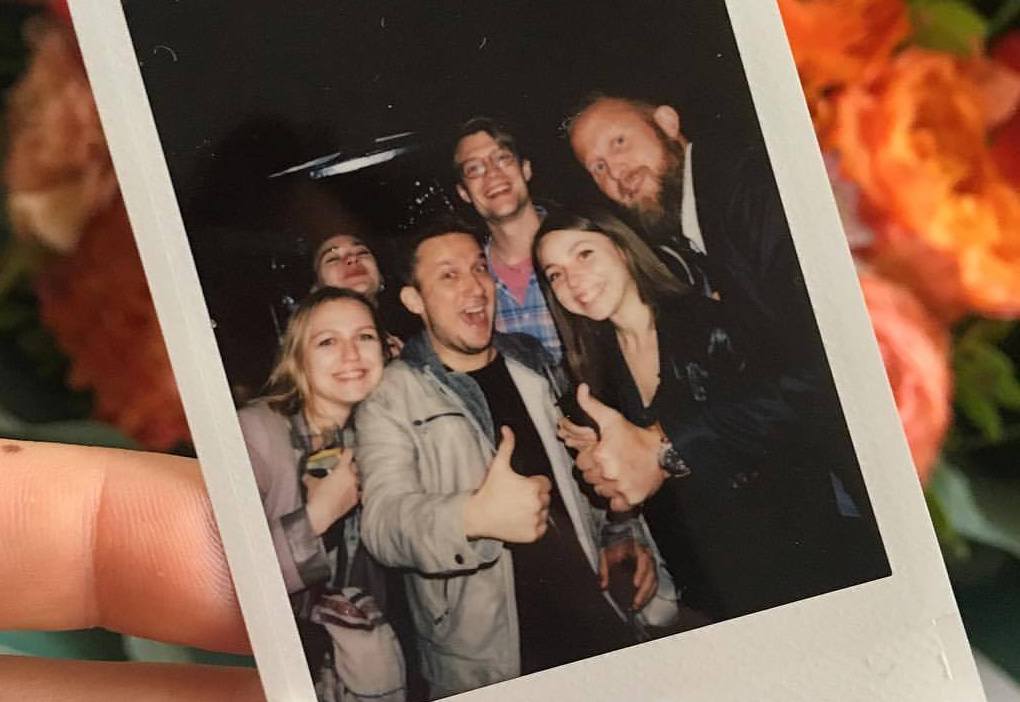 Left to right: Alina and Konst from Redwerk, Andreas from Beetroot, Brad from Giles-Parscale, Diana from Anadea
The Ever After Chapter
Was it worth it? – Yes!
Do we plan to come back? – Double yes!
With a hundred of talks and side events we checked in, our heads are bursting with the new ideas. The unique atmosphere created by Paddy Cosgrave's team attracts creativity and innovation of all sorts. They managed to combine the rapidly changing technology trends with the chill atmosphere of the beautiful Lisbon which makes Web Summit a great place to come back.
About Redwerk
Redwerk is an app and web development company, with a focus on outsourcing development services. You can outsource development tasks to our dedicated team of developers, QA engineers, project managers, and business analytics. Redwerk's seasoned team can handle projects of any complexity, and we always deliver our services on time and within budget.