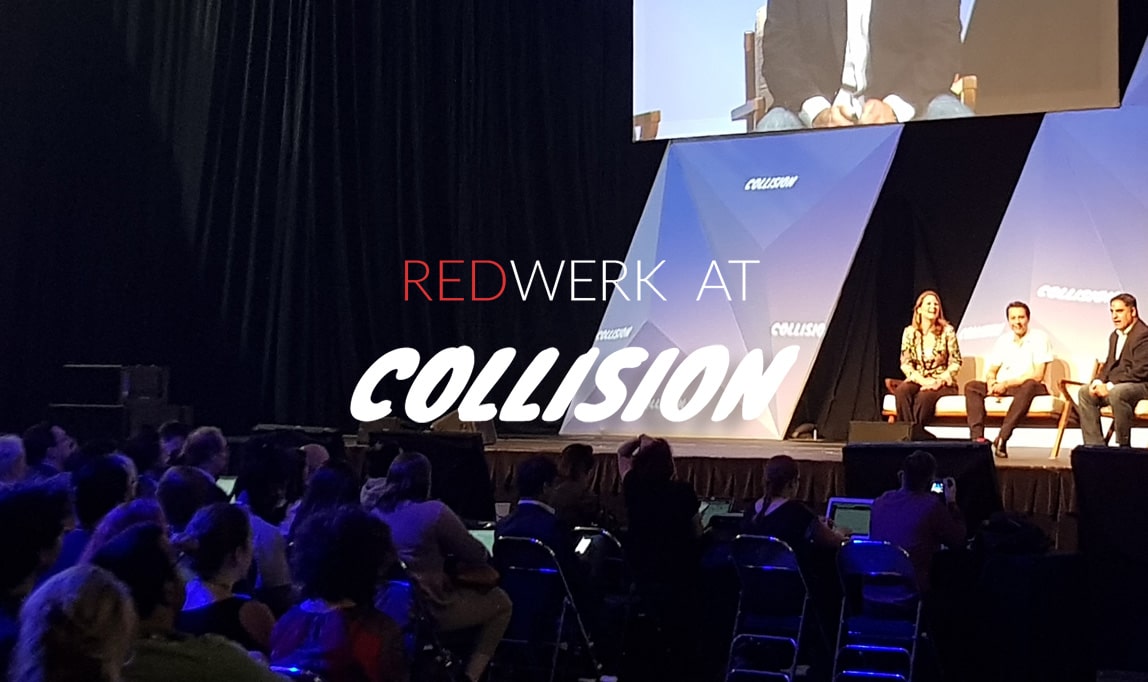 As you may know, in November 2017 Redwerk team visited Europe's largest tech conference Web Summit. This year we decided to continue our journey and make a trip to New Orleans where a Web Summit's little cousin – Collision Conference was held.
So, what actually collided?
The three-day Collision Conference brought together around 25 000 attendees from 120+ countries at Ernest N. Morial Convention Center in New Orleans, LA. And here's where the collision is hidden.
New Orleans is known to be one of the most artistic places in the USA, the homeland of Jazz music and numerous famous cocktails. It skillfully combines Spanish and French cultures with Voodoo magic and creates this special atmosphere of the southern city.
And Collision conference, known as one of the fastest growing tech conf, brings thousands of techies and geeks to the slow-paced relaxed flow of the city of musicians and artists.
Social blockchain marketplace powered by sustainable AI
Well, that's a joke of course, but this line contains all top trends among presented startups.
Each year organizers of the conference choose the most groundbreaking startups from thousands of requests and provide exhibition stands to representatives of the most innovative ideas from over 18 different industries.
We were proud to get a place in Alpha section and exhibit our SpamHound app among the most progressive projects around the world. And yes, we met a lot of AI startups that help people to do their business more efficiently, blockchain projects that offer their users to decentralize everything around and marketplaces & social networks to any taste.
Who we met
Unlike many other conferences, Collision decided not to divide startups by industry. They mixed everything making it's easier to get lost in the variety of projects but also finding real gems where you would never look.
Sli.do that enhances communication and increases interaction at events and meetings
Ecocuriean – consulting firm that promotes sustainability beyond an aspiration to a front and center business model
Ethical Swag – eco-friendly branded products
Double Amor – social network for married couples
Doja – a marketplace of cannabis products
Mindgrub – smart and functional office robot
DaVinci Industries – hardware solution for counting items in retails
NoPing – proxy tunneling for gamers
Liquid Invoice – transaction automation solution
Social Mama – network for active moms
AT Now: Live Math Tutoring – math tutoring platform
DistantJob – remote recruiting service
Eebudee – platform that helps parents and kids to deal with tech environment
Do I Date – social network that offers insights about your potential date
Win Kel Storage – service for sharing storage space
Big Blue People – marketplace of professional services
Backbone – advanced website building platform
Sitch AI – tech for building a smart city
Rootlo – service that helps travellers
Vempathy Inc – AI platform for easier reserch
CausEcho – service for activists, fundraisers and disaster
6-Watch – virtual surveillance partner, with threat identification
Lingco – smart language learning platform
PreneurHub – management platform fro connecting with dev resources
Passparto – web space for working with freelance designers
UpRamp – entrepreneurship that helps to improve others
AppPile – app building platform
Grapple – news and audience reactions analyzing tool
Appshuttle.io – app building platform
Mapwize – indoor mapping and wayfinding service
Diamondback Productions – team specializes in film, design & music production
BeanJungle – marketing campaign management tool
ANIX – visual voice and messaging assistant
Zilpini – community to share and explore local arts
Adaptation Strategies – consulting firm focused on environmental, public, and economic health
betwixt.us – slackbot helping teams to improve productivity
ELE.ai – artificial intelligence delivery platform
Lovelytics – BI data visualization tool
Kustomer – customer service, experience and support tool
Pangea – a headset that measures brain wave activity
Fibher, llc – outdoor wear with social good mission
ShuttleBee – safe and convenient transportation for kids
Kura Care – health data analytics services
WokeUp – platform for prganizing civic action in communities
Supertext AG – copywriting and translation services
MyDealerOnline – advanced auto remarketing services
Buyandship – discount and delivery servives
Event Integrity – marketplace where you can search for venues and vendors
Encast inc – employee-happiness platform
SafetyPin Tech – data protection and encryption services
TreesWithLeaves – experimental app development
Holoworks – bringing hologram technology to everyday life
Networked – networking and connections platform
Crowdrelief.net – disaster recovery plastform
twodegrees.io – social network to meet people nearby
Irish taste of Collision
After busy days full of new meetings, conversations, progressive ideas and useful information from speakers, Collision offered its attendees to keep up with a flow of events in New Orleans and informally interact with investors and mentors at pub crawl sessions and Night Summit events.
And it's not surprising, for a few reasons. First one is that Collision is created by Irish, and we all know that pubs are a part of Irish culture. Second is that the Big Easy is famous for its old bars on Bourbon Street and French Quarter, that every tourist should visit. One of them is Lafitte's Blacksmith Shop, that was built in 1772, still working nowadays. By the way, world known cocktail Hurricane was invented in Pat O'Brien's bar in New Orleans.
Collision managed to beautifully mix the traditional southern atmosphere with progressive tech projects and create perfect conditions for informal and productive networking.
After three days Redwerk team was a bit exhausted but happy to meet so many talented and unusual people. To sum up these productive days at the conference we decided to bring together awesome people we met at Collision for a tasty dinner with American stakes:
Going North in 2019
Many people believe that if you throw a coin in a fountain in any city in the world, you will definitely return there again. In New Orleans, we were original and left our sticker on one of the streets lamp posts during the daily Night Summit.
We hoped that we would return to New Orleans on Collision 2019, but found out that the meeting point for Collisioneers changed to Toronto next year. Canada's Prime Minister Justin Trudeau announced this news personally and mentioned that Toronto is home to many startups, over 18 000 tech companies, and 400 000 qualified specialists. Sound exciting, ha?
The Results
We should say that the motto ''North America's fastest growing tech conference' is 100% about Collision! Our team is deeply inspired by the atmosphere of the place where the world most progressive minds met with the artistic magic of New Orleans. We were happy to show SpamHound to the huge audience, met creative people that change our everyday life, visited numerous unusual places in New Orleans!
Meet you next year, Collision! See you in Toronto!
About Redwerk
Being neoteric outsource development IT company, Redwerk develops cutting-edge solutions for a variety of industries such as eCommerce, Business Automation, eHealth, Media & Entertainment, eGovernment, Game Development, and of course, for Startups & Innovation. We create outsourcing case studies for the major projects in order to analyze all the pros and possible cons to improve ourselves. Since 2005, our dedicated team successfully released and continues to provide IT development services for manifold businesses, both for small and medium-sized, and corporations.